A Baker's Dozen Post-Frame Home Myths (#8 – #13)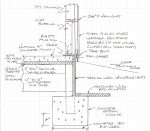 MYTH #8. THERE ARE NO FOOTERS IN POST FRAMES

Without having footers to protect concrete slabs on grade from freezing, there is a potential your concrete slab can move or heave around edges in cold weather. In turn, this can shift interior walls, resulting in damage to drywall finishes and trim.
If you do go with post-frame construction, you will have to add footers to stay in IRC (International Residential Code) compliance. This will add cost back into your home's total price.
Fully-engineered post frame homes are 100% Building Code Compliant and most typically have properly pressure preservative treated columns embedded in ground with both concrete footings and bottom collars. Alternatively your home can be mounted to steel brackets set in concrete piers.
Either of these are designed to extend to or below frost lines or are frost protected by use of insulation. Footers themselves do not protect a concrete slab from freezing and heaving, using rigid insulation around slab perimeters is required for either stick frame or post frame in Climate Zones 3 and greater). With fully engineered post-frame, there is no need to incorporate thickened slab edges or continuous concrete footings and foundations.
MYTH #9. POST-FRAMES WILL HAVE LARGER SPANS BETWEEN ROOF TRUSSES

This is an issue because they'll have to be filled in before you can hang drywall. If you hang drywall "as is," it will all sag over time, causing structural damage (and a pain in your wallet). Adding this extra framing afterwards will add to total price tag again.
While some post-frame homes do have trusses spaced every two feet, most cost effectively your fully engineered post-frame home will have double trusses every 10 to 12 feet. If you desire to insulate at ceiling lines, ceiling joists are placed every two feet to adequately support drywall. This combination of double trusses and ceiling joists will still be less expensive than conventional stick framing's trusses every two feet with structural headers required in walls. By widely spacing trusses, it allows for greater flexibility in locating doors and windows in exterior walls.

MYTH #10. POST-FRAME HOME TRUSSES HAVE VERY LIMITED SPANS

Prefabricated metal-plate connected wood trusses can easily span 80 to 100 feet without need for interior columns. Very rarely will spans greater than these ever be needed for a post-frame home.

IRC Section 802.10.2.1 further limits truss spans for stick-frame construction to a maximum of 36 feet and building lengths to 60 feet (measured perpendicular to truss span). Fully engineered post-frame homes do not have these limitations.
MYTH #11. EXTRA FRAMING BETWEEN POSTS WILL BE NEEDED

Comment from a stick frame builder: as opposed to traditional wall building, with post-frame you'll have to build walls between posts. This is an added cost to an already built post-frame building shell.
Chances are this builder has never built (or probably seen) a fully engineered post frame building with bookshelf girts every two feet. All exterior wall framing is taken care of at initial installation, you get a deeper insulation cavity and a better surface to drywall. 
MYTH #12. INSULATION COSTS ARE HIGHER

Your post-frame home will require more wall insulation because post-frame walls are thicker than typical two-by-four construction. Therefore, insulation cost will be higher to fill this cavity.
Proper insulation systems are an investment, not a cost. Would you really want an energy bill based off of R-13 insulation in a two-by-four exterior wall? Engineered post-frame construction allows for thicker insulation cavities – reducing your energy costs for your home's lifespan.
MYTH #13. POST-FRAME CONSTRUCTION IS TYPICALLY NOT USED WITH BASEMENTS.

Post frame construction is not very conducive when building on a basement, as basement walls will be made from poured concrete. Trying to adapt post-frame construction to a basement will end up with higher costs than traditional home building techniques. Bottom line: If you want a home with a basement, post frame construction is not your best choice.
Fully engineered post-frame homes can easily be engineered to attach to a concrete basement foundation, ICFs or even incorporated into a Permanent Wood Foundation, at similar or lower costs than stick frame.