This week the Pole Barn Guru answers questions about the costs of erecting a small metal barn, how to address leaks after moving a building, and building on expansive soils.
DEAR POLE BARN GURU: What is the cost to hire for installation of a small, 24 x 36, metal barn? JACKIE in CUMMINS
DEAR JACKIE: Currently (and for the foreseeable future) there is a nationwide shortage of building erectors. Many high quality erectors are booked out into 2023. We would strongly encourage you to consider erecting your own building shell and most of our clients are building themselves.
For those without the time or inclination, we have an extensive independent Builder Network covering the contiguous 48 states (https://www.hansenpolebuildings.com/find-a-builder/). We can assist you in getting erection labor pricing as well as introducing you to potential builders.
A CAUTION in regards to ANY erector: If an erector tells you they can begin quickly it is generally either a big red flag, or you are being price gouged. ALWAYS THOROUGHLY VET ANY CONTRACTOR https://www.hansenpolebuildings.com/2018/04/vetting-building-contractor/
Your new building kit is designed for the average physically capable person, who can and will read and follow instructions, to successfully construct your own beautiful building shell (and most of our clients do DIY – saving tens of thousands of dollars). We've had clients ranging from septuagenarians to fathers bonding with their teenage daughters erect their own buildings, so chances are – you can as well!
Your new building investment includes full multi-page 24" x 36" structural blueprints detailing the location and attachment of every piece (as well as suitable for obtaining Building Permits), the industry's best, fully illustrated, step-by-step installation manual, and unlimited technical support from people who have actually built post frame buildings. Even better – it includes our industry leading Limited Lifetime Structural warranty!
Should you decide to engage a building erector, in most instances, fair market value for labor is roughly 50% of what your building kit investment is.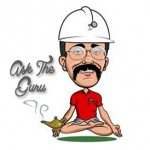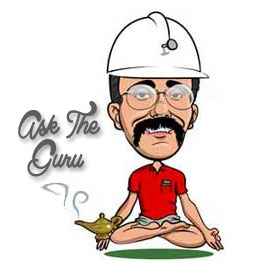 DEAR POLE BARN GURU: I just moved my pole barn forward 20ft. forward. There was a slab poured for the pole barn, so I added 20foot more on to the front of the original slab, anchored it to the old slab and pulled it forward. The back of the pole barn leaks water underneath the wall in spots and I was wondering whether I need to cut some kind of trough on the outside slab to let the water drain better. As of now I do not have gutters. The pole barn measures 30 feet by 50 feet. CHRISTOPHER in BURKESVILLE
DEAR CHRISTOPHER: You are far more ambitious than I in moving your pole barn. You should seal bottom of your pressure preservative treated splash plank to your building's concrete slab. It would not hurt a bit to cut out a strip of slab adjacent to your wall, even better if a French drain system was placed in trough to keep water from flowing under your building.
DEAR POLE BARN GURU: Hello, I am planning a Barndominium on our property but we have challenging soils (8% swell with expansive soils) with the recommendation from the soils and structural consultants to do a stem wall and caissons with 4′ of over excavation for any slabs on grade. We had a rather large barn portion planned and the home section my wife is favoring a shape that would lead toward conventional stud frame construction method. If the foundation types are the same, it would seem that the two building types would be feasible but conversely I have never seen a pole barn on a caisson/stem wall foundation. Any insight is appreciated. Stacy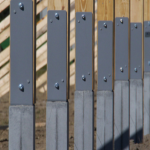 DEAR STACY: Expansive soils always make for a challenge for any building system. Post frame building foundations are, by their nature, a caisson style foundation – eliminating any need for a continuous foundation and footing system. This can be accomplished by either embedded columns, or columns attached by Code approved wet set brackets to concrete piers. For your home section, it would be unusual for stud frame construction to be more effective or efficient than post frame, regardless of shape.
For extended reading about post frame construction on expansive soils, please see: https://www.hansenpolebuildings.com/2020/07/barndominium-on-expansive-soils/