Inspecting an Existing Barndominium

Reader STEPHANIE in BATES CITY writes:

"We are in the process of buying an existing barndo and will be finishing it out with additional living space. The barndo was built by the current owner, along with his dad, 13 years ago.my question comes from a discovery during inspection on Monday. The research I have done is leading me to believe this issue is not an issue but i want to make certain before we are out of inspection period. The inspector was at first concerned that the pole beams were just sunk into the ground without footers. However, the current owner, who is also the individual who built the structure, came out to answer questions for us. He said he sunk the beams into concrete about 4 feet down. Then there is about a foot or so of "treated" beam in contact with the soil. He assured us the beam was treated specifically to be in contact with the soil. I will include photos following this message. In my research I have learned there is a particular material wrap that can be put around the exposed beams so maybe this is something we can consider down the road if we feel it is better or necessary. My question for you, if you don't mind…..does this appear to be normal/standard practice for the sunken beams/footers? Do we have any reason to be concerned?"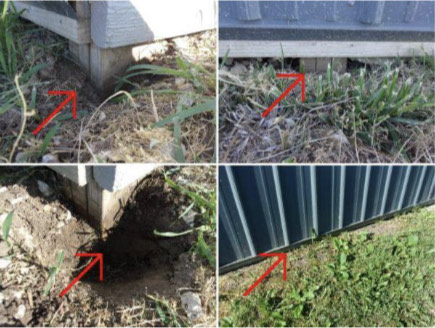 Mike the Pole Barn Guru says:
Most post frame buildings/barndominiums are constructed with pressure preservative treated columns embedded in ground (like what you are seeing). Provided they have been properly treated to UC-4B standards, they should outlive anyone alive on our planet today (for extended reading please see https://www.hansenpolebuildings.com/2020/09/pressure-treated-post-frame-building-poles-rot/). Polesaver sleeves™ (https://advancedpostsolutions.com/post-solutions) might also help to alleviate some of your concerns.

If this building was built to engineer sealed site specific plans, then you should feel fairly confident of its structural integrity, if not, I would recommend engaging an Registered Professional Engineer's services to do a physical inspection to verify structural adequacy and make any recommended repairs/upgrades if needed.