The Pole Barn Guru discusses the always popular ceiling insulation, vapor barriers with insulation, and closed cell spray foam insulation.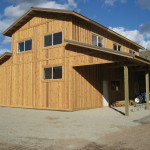 DEAR POLE BARN GURU: I read your article on unvented roofs. My building has a vapor barrier installed. I am at the point of insulation and plan on doing closed cell spray foam. What would be better spraying the roof deck or the attic floor/ top side of the ceiling. I was thinking spraying the roof deck and then doing blown in insulation above the ceiling to get my r value. I thought having the entire building done in closed cell would make for the tightest building. BRAD in FLANAGAN
DEAR BRAD: If you have a condensation control barrier (having a thermal break, not just a vapor barrier) of some kind between roof steel and framing, then there would be no need to closed cell spray foam underside of roof deck, unless you are going to use this as your only insulation.  Insulating ceiling line creates a dead attic space above, so it will need to be ventilated (either eave and ridge or gable vents). Closed cell spray foam will give you a very air tight building, applied properly.
DEAR POLE BARN GURU: Built pole barn installed 1-2 inch thermal sheathing in outside installed 8 inch batt would you install vapor barrier on inside been told I have two vapor barriers answers. JIM in HARTFORD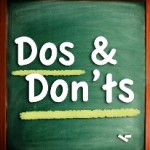 DEAR JIM: You are going to have insulation sandwiched between two vapor barriers, however air leakage into the cavity is a greater issue than through a vapor barrier. Goal is to keep insulation and wall framing dry. As long as you adequately seal all of the air leakage pathways you would not need an interior vapor barrier. In other words – if you install an electrical outlet or switch box, seal it, seal around any door or window openings.

DEAR POLE BARN GURU: What do you feel is best insulation system for pole buildings building we got is 162 x 72 wood structure built on foundation wall columns on 6 ft on center girts nailed to outside of columns and also inside corrugated metal we installed 1/2 poly iso insulation and 8 inch batts in wall spray foamed  base to seal air leaks and plugged holes on top with 3 inch iso between columns and foamed around window frames poly iso has foil face and we taped seams wanted to install poly vapor barrier on inside but was told that I would have two vapor barriers which is bad what do you recommend? JIM in HARTFORD
DEAR JIM: My recommendation would be two inches of closed cell spray foam on inside of steel siding. Install another set of girts on inside of columns to support interior wall finish material. Fill wall cavity with BIBs (https://www.hansenpolebuildings.com/2011/11/bibs/). Glue two inches of closed cell foam insulation board on inside of girts, sealing around any penetrations. Glue interior finish material to inside of insulation board.