Today Mike addresses questions about placement of sliding doors, extreme snow loads, and quoting for a specific design.
DEAR POLE BARN GURU: I'm building a 32 wide 48' long 14' tall hay barn. 6×6 posts. Looking at my barn I have one post in the center and want two 16' wide sliding doors to access my whole barn. Not sure if I should put them both on the outside and have one side slide behind the other or have one sliding door on the inside. Was worried about doors rubbing each other and scratching metal siding. Your opinion would be awesome. I can't find any pictures online. Thanks. JOSH in BELT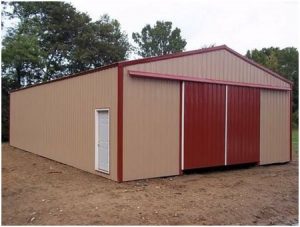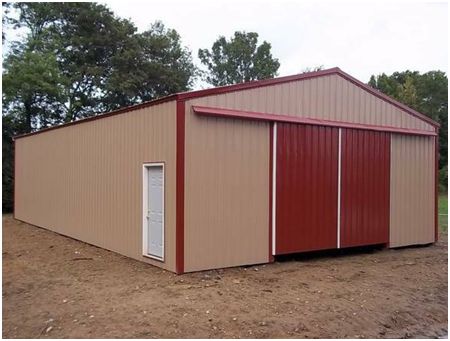 DEAR JOSH: In answer to your question – most typical would be to use a double track system where sliding doors could be exterior mounted. Guides attached to center column can assist in keeping doors from rubbing upon each other.
Now my concern – having one endwall be all doors does not allow for wind shear loads to be adequately transferred from roof to ground. You should consult further with the RDP (Registered Design Professional – architect or engineer) who designed your building. If, by some chance, a RDP was not involved, you need to hire one now, as there exists a strong potential you are planning upon constructing a building doomed to fail.

DEAR POLE BARN GURU: Can a pole building be supplied to meet a 390 pound snow load? Will it work well in snow country? KURT in TRUCKEE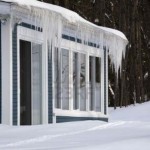 DEAR KURT: We can design a post frame (pole) building to meet any snow load you can imagine and perform admirably. Of concern would be keeping snow sliding off roof from accumulating along building walls and exerting forces against them (same issue with any building type). Your 390 pounds per square foot snow load works out to be nearly 15 feet of snow (https://www.hansenpolebuildings.com/calculating-loads/).
DEAR POLE BARN GURU: Do u quote from our design? JAMES in MT. HOPE
Get A Free Quote!
DEAR JAMES: If "our design" means dimensions and features you desire to have in your new post frame building, then yes. If "our design" means you have a set of plans you want us to quote materials off from, based upon how you or your RDP (Registered Design Professional – architect or engineer) think your building should be structurally assembled, then no.
We have found structural designs other than ours to almost universally be one of two choices. One of these choices would be under design, meaning if your building was built to those specifications it would stand a tremendous possibility of failure under less than design loads. Opposite would be over design. Usually over design will not be universal throughout a plan, instead one or more components are highly oversized or over specified adding to project cost, without adding benefit.