Why Your New Barndominium Should Be Post Frame

For those who follow me – you know I am all about people loving their end results. As long as one has a fully engineered building they love, I couldn't be more pleased, regardless of the structural system.
In My Humble Opinion – fully engineered post frame buildings are your best design solution in nearly every case. My exception would be if one desires a clearspan over 80′ or a very low slope roof – then I would recommend PEMB (red iron).

But, what about stick frame?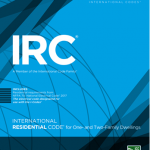 Perhaps stick built construction's biggest advantage is builders and tradespeople are very comfortable working in and around stick framing. All registered architects and most building inspectors are very familiar with stick framing. International Residential Code (IRC) provides a prescriptive 'cook book' to follow for adequate structural assembly, within certain limitations. These limitations include, but are not limited to, no story height of greater than 11 feet 7 inches (R301.3), no hurricane prone areas with a design wind speed of 130 mph or greater located south of Virginia, or 140 mph elsewhere (R301.2(5)B), and no ground snow loads over 70 psf (R301.2.3).
IRC802.10.2.1 further limits truss spans to a maximum of 36 feet and building lengths to 60 feet (measured perpendicular to truss span). Trussed roof slopes must be at least 3:12 and no greater than 12:12.
Want a 40' x 72' x 14' shop/house barndominium? Sorry, outside of what IRC allows.

And because IRC tables cover up to a worst case scenario (given maximum design parameters), it creates overkill, wastefulness and redundant framing members. Translated to – it takes more pieces than might be necessary in a fully engineered structural system.
Fully engineered post frame buildings include foundation plans, PEMBs require one to hire another engineer to provide foundation design. Plan upon a grand or more just for PEMB foundation engineering and this can quickly escalate should a Geotechnical Engineer need to perform soils testing.

Post frame does not require precision placed anchor bolts, and requires no use of cutting torches or welding.
Post frame requires minimal concrete to resist settling, overturning and uplift. Any slabs on grade do not need to be thickened or have continuous footings/foundations.
Post frame can be erected D-I-Y without a need for heavy equipment (although I do appreciate a skid steer with an auger to dig holes). Any physically able bodied person, who can and will read step-by-step instructions can successfully erect their own beautiful post frame building.

Post frame has no highly conductive steel frames to thermally isolate and attempt to conceal.

Post frame is easily adaptable to more complex rooflines, and can be done in any combination of alphabet letter shapes. Fully engineered post frame can easily be erected over crawl spaces as well as full, partial or walkout basements.
When properly designed (with bookshelf wall girts), exterior walls are ready for wiring, insulation and interior finishes – no need to frame a home inside of a building shell.
Post frame provides deep wall insulation cavities and with raised heel trusses, any depth of attic insulation can be blown in above a finished ceiling.
Post frame can readily be done multi-story, with up to 40′ sidewalls and three stories (or 50′ and four stories with fire suppression sprinklers).