This week the Pole Barn Guru answers reader questions about building clientele as a contractor looking to build pole barns, if Hansen Buildings has any design plans for Prince Edward Island, CA, and a few questions about what materials are used in different Hansen Building components for a cabin.
DEAR POLE BARN GURU: How to find more clientele to build pole barns for I am a framer and own my own company and I am looking forward to find more clientele. BRANDON in OKLAHOMA
DEAR BRANDON: Hansen Pole Buildings can help. We have clients looking for post frame building erectors all across the country. We connect you directly with the clients and do not markup your labor, or ask for any sort of kickback from you. If interested please reach out to Rachel@HansenPoleBuildings.com 1.866.200.9657. Thank you.
DEAR POLE BARN GURU: Do you have any design plans for Prince Edward Island, Canada? This is where I would be building but your form does not allow for a province. The building will be 24 wide x 36 long. Hope to hear from you soon. HEATEHR in MONTAGUE
DEAR HEATHER: We do not currently yet have Canadian Building Codes programmed into our system. Our Canadian friends can use our structural plans designed to U.S. Codes, if their jurisdiction will allow.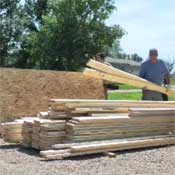 DEAR POLE BARN GURU: I am interested in a pole barn cabin. I am wondering about the actual frame, is it steel? Are the poles steel? I would like to price a building around 30 x 40 and 14 or 15 feet at the eave w a roof w a pitch of 5:12 or 6:12. Thank you, MARTA in CASCO
DEAR MARTA: Thank you for your interest in a new Hansen Pole Building. Post frame buildings are excellent for use as a cabin. With pressure preservative treated wood columns – designed for structural in ground use, and a wood framework, they are ideal for an average physically capable person to erect DIY.
Here is some extended reading: https://hansenpolebuildings.com/2022/01/why-your-new-barndominium-should-be-post-frame/