How to Avoid a Disastrous DIY Pole Barn Project
I'd like to thank Bret Buelo of Wick Buildings for the basis of this article, which appeared on the Wick Buildings website (www.wickbuildings.com) August 12, 2016. Information from Bret's article appears here in italics along with my own input as well. Wick Buildings is highly rated by the Better Business Bureau and has been an NFBA (National Frame Building Association www.nfba.org) member for decades.
Please keep in mind, Wick Buildings is in the business of constructing post frame buildings – we are in the business of saving people money who want to do some or all of their own work.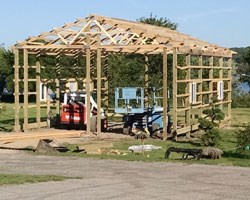 Part of the fun of any DIY project is learning new skills to complete a project. However, there is a point where you venture too far into the unknown and begin to cost yourself time, money and perhaps even your own personal safety.
If you're a DIYer with lots of time on your hands and potentially cash to burn, by all means, you can take a shot at any pole barn project. But if you're on a budget and time is of the essence, there are tipping points when you can find yourself in over your head.  Many pole barn jobs can get extremely complicated, and if you're not careful, can lead to some significant mistakes.
We reached out to Gordon Sebranek, who manages the Engineering Department at Wick Buildings, for some insights. Following are nine potential pitfalls he outlined to help you decide if you've bitten off more than you can chew on your pole barn project.  Be sure to listen to his audio interview for details beyond the post below.
Pole Barn Too Big
Gordon says a good cutoff point for a DIY-worthy project is anything over 10 feet tall and 45 feet wide. Anything larger requires a bigger crew, special equipment, and as you'll see below, some tricks of the trade.
Guru comments: I've seen DIYers successfully construct buildings with eave heights over 20 feet tall and clearspans of 70 feet. Frankly, the average Do It Yourselfer (DIYer) usually ends up with a far nicer building than if they had hired a contractor to do the work for them.
Crew Size Too Small
A typical pole barn project needs at least three people. Four is even better. Lots of things are doable with two people, but there are some tasks that simply require more bodies.
Gordon refers to setting trusses as an example. "You need one guy at the end to guide it, someone to run the skid steers, and someone on the roof, running purlins to brace the truss," he said.
Guru comments: It wasn't too many years ago one of our clients constructed a horse riding arena with an attached shed row for stalls of over 10,000 square feet. He did all of the work by himself other than hiring one person to give him an assist with the roof steel and to hire a crane to place the 66 foot span roof trusses.
As a former post frame builder – most of our crews were two persons only.
I know of one post frame builder, Jim Davis, who almost always worked by himself. He was able to do clearspans of up to 40 feet, without the need for another body.
Trades Too Tough to Learn
You can watch a YouTube about how to complete a specific construction task, but there are some construction jobs that flat-out require talent.  "I can hang sheetrock," Gordon notes, "but I can't tape joints to make it look professional."
Smoothing drywall compound requires a deft touch, and many of the following trades have areas that require both experience and talent. Gordon recommends sub-contracting for:
Concrete
Electrical
Plumbing
Insulation
Guru comments: I would agree with at least the top three of this list – and on number four (the insulation), installers typically get discounts on insulation from the manufacturer which make it possible for them to install for about the same price as the average person would pay for the materials.
Come back tomorrow folks, for part two in a three part series for words of wisdom from not one but two, leaders in the pole barn industry.