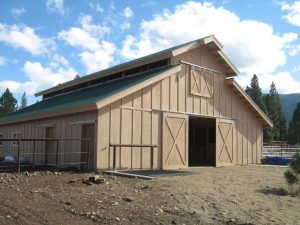 There are two types of pole building owners: those who like to build it themselves, and those who trust expert builders to masterfully construct their dream pole barn. Hansen Pole Buildings guides both types of owners in the careful selection of materials and designs that are the right balance of luxury, utility, and affordability.
But for the sticklers who want to squeeze every last penny out of their pole barn construction, we recommend considering the following money-saving techniques to save on pole building costs.
Buying Long-Lasting, Not Cheap, Materials
It's tempting to see how low your pole building price can go on your pole barn materials. But don't forget: the buildings are affordable even when you spring for quality material upgrades.
Doors – If you want to pay less (and do less maintenance) in the long-run, choose a door that won't warp or stick when the weather changes. Buy a frame that won't wear away too quickly, and purchase hinges that will support the weight of your door for a long time without bending.
Steel – Yes, there are differences in steel quality and thickness that can affect the lifespan of your pole building. Hansen Buildings is experienced in sourcing materials and can help determine what gauge of steel your pole barn frame will support.
Insulation – Your type of insulation may vary depending on how you use your pole barn. Ask your pole building craftsmen or Hansen Buildings what type of insulation will hold in heat and cool air most effectively, especially if you are living in it or you plan to keep animals in it. You'll save tons on energy and maintenance if you do.
It may raise your upfront costs of your pole barn to invest in quality materials, but you'll thank yourself later when you don't have high energy and maintenance bills arriving monthly.
Ensuring Proper Support Spacing
Most building designs will require supports spaced either six or twelve feet apart, but amateur builders may space supports more narrowly, upping your material and labor costs.
If you're building a pole barn yourself, don't stray from the recommendations provided on your design. If you've hired builders, be sure to check their work against your pole barn plans, and address your concerns about differences in construction as early as possible.
Performing Up-Front Façade Planning
Especially when building for residential needs, customers commonly become concerned about the outer appearance of their pole barns. When trying to achieve the look of a traditional house, clients tend to opt for expensive siding and roofing options that could, instead, be addressed during the design phase of the pole building.
Designers like Hansen Pole Buildings work with novice and veteran customers alike to produce pole buildings that match the function and aesthetic intended by the customer. Ask your pole building craftsmen about clever ways to improve the look and feel of your pole barn exterior without getting burned on pole building price, such as:
Changing the roof style of the building – gambrel roofs and double gables make aesthetically interesting buildings from rectangular bases.
Installing different door styles – sliding doors and garage doors can add a touch of country or suburb to your pole building quickly and easily.
Adding plenty of windows – windows vary the look of large spans of wall and, as a bonus, let in lots of natural light, which expands your already wide pole barn interior.
Customizing with a deck or porch – raised or flat, a quality deck is an affordable add-on that will spruce up your exterior without making expensive changes to your pole barn plans.
Selecting Appropriate Insulation
Not only do you want to buy a quality insulation, you'll want to install it to meet your specific needs as well. Try some of these money-saving insulation solutions to save on pole barn costs:
Liner system – a steel liner system is easier to install and less expensive than drywall when considering the installation and painting costs, and is better suited to temperature changes in steel buildings.
Condensation control – whether you have insulation or not, condensation control will help keep temperatures level and humidity normalized.
Remember to carefully consider your insulation material options as well. Fiberglass is the standard and tends to be more affordable, but foam insulation may last longer despite its relative expense. Cellulose will help you insulate if you have an attic; it can be blown into attic spaces to prevent air flow from the interior of the building.
Work with Your Pole Building Experts
Above all, the best way to save money on your pole building is to set your expectations correctly with your pole building designers and builders. Quality experts and construction specialists will help you maximize the potential of your building without compromising on pole building prices. Do your research, find companies you can trust, and monitor the construction of your building to keep your pole building cost as low as possible.