When the construction industry imploded in 2008, pole barn builders and suppliers stripped their pole buildings down to the bare essentials (or, in some cases, to less than the bare essentials). This was done in an effort to make the pole buildings more affordable and to not be underpriced by another provider or builder.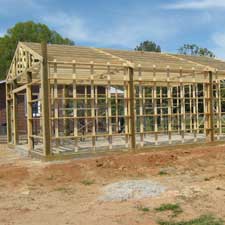 Even now, as the market is improving, we still see post frame buildings being offered about as bare as a lap dancer. This trend makes it harder for other pole building providers to sell upgraded (and better) products to both builders and self contractors.
Like a Victoria's Secret catalog, pole builders and pole building providers attract clients with the bare essentials and attractive pricing. While contracts may be signed with builders at attractive pricing, the builder is planning on covering up the pole building with a full wardrobe, including a mink coat. The price for the pole barn may be $10,000, but the builder is planning on it actually selling for $20,000, by the time he gets done with upgrades (as well as costly change orders).
When I was in the residential prefabricated metal plated roof truss industry, one of my clients was a framing contractor who used to brag about his middle name being "Extra". While he did great work, and was always very reasonably priced, everything not spelled out initially was extra! And what were his customers to do? Once he started building, they were stuck!
Long ago, I learned no matter how low something is priced, there is always someone who is willing to cut quality and/or service to get to yet a lower price. Even scarier yet, is when the competition knowing leaves out portions of the building in order to get to a lower price!
And if you think a supplier would never knowingly leave materials off from a list, I have some ocean front property for sale in Arizona. I see materials lists prepared by lumber yards day after day – almost without exception, they are all missing or short materials.
When doing a quote comparison with another company, I have had to ask the client, "Which two walls do you want the steel on, the walls with the overhead doors, or the walls without?"  They had no idea there was not enough steel for the entire building.  Or that providing roofing material (steel or shingles) was "extra".
How about code requirements?  Are they clearly listed on the quote, or are they somehow "hidden", with the company merely claiming they design their buildings "stout".
Want to do it right the first time, and know what costs truly will be?
Find a supplier who guarantees to provide a complete building package, with features spelled out (including all of the code and loading criteria), for a set price. A complicated list of materials, is nothing more than a list with prices, it is no guarantee of anything ever being able to be constructed.