This is a sad story I hear all too often from pole (post frame) building owners who have buildings which were not properly designed for future uses, especially when it comes to insulation and ventilation.
Reader JASON in TENINO writes:
Hi Pole Barn Guru,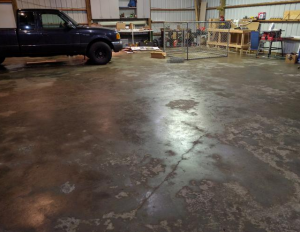 I recently purchased a new house and it came with a 40×60 shop. This past year I've experienced terrible slab sweating every time there is a change in humidity. Now that it's summer I would like to prevent the sweating from occurring again. What are my best options on a limited budget? I've looked into using a penetrating concrete sealer, but I don't think that addresses the underlying condensation problem.
As far as I can tell the shop has no ventilation of any kind (ridge/gable/soffit). And I'm noticing black mold starting to develop in the insulation below the roof. And I'm not sure if any sort of vapor barrier was placed before the slab was poured.
In the future I would like to insulate and heat the shop, but for now, I'd be happy if I can stop my condensation problems.
Thank you for your help!!!
DEAR JASON:

Yep – you have a problem on your hands. I can pretty much guarantee there is no vapor barrier under your concrete floor, which is a shame someone cheaped out. Vapor barriers are so inexpensive.
Taking care of first things first, let's get the floor sealed. Here is the information you will need: https://www.hansenpolebuildings.com/2012/07/concrete-sealer/.
Secondly – get rid of the mold. Mix in the ratio of one cup bleach per gallon of water and use a hand pump sprayer to saturate all moldy surfaces. You can also use a scrub brush to remove the existing mold.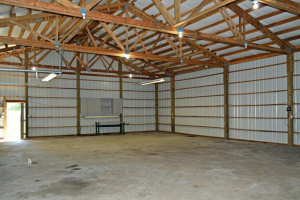 Third – I am going to leap ahead to your future plans, as they will impact your solutions now. I am not a gambling man, but I would put money on your shop's trusses not having been designed to support the weight of a ceiling. This means if you want to eventually insulate and heat the building, you will have to insulate above the bottom chord of the trusses and up the roof line. On the walls, you can frame in either with a stud wall or with bookshelf girts to create a method to support insulation, with either batts or BIBs (Blow in Blanket) insulation being the most cost efficient and effective for your investment dollars.
Insulating the roof, not so easy, as the only really practical solution will be to use closed cell spray foam between the roof purlins. You will want to consult with an installer to get their opinion as to whether the metal building insulation under the roof steel will have to be removed prior to spraying.
If you are going to spray foam, then you do not want to use a ridge vent, as the foam would cover it.
Here is my best advice (provided you have the space on your property) – use your existing building only for cold storage. Since you do not have vented sidewall overhangs to create an air intake, the only solution for ventilation is to use large vents in each endwall. At a bare minimum, you should have at least 576 square inches on net free flowing vent in each end – located in the top half of the gables. You may need to add power vents, in order to adequately move the moisture out of the building.
When your budget allows for some climate controlled space, construct a new building which is properly designed to be able to be energy efficient.
Here is a short list of features which you should include:
Underslab vapor barrier
Pex tubing in slab for in floor heat
Perimeter slab insulation (rigid foam)
Bookshelf wall girts to create an insulation cavity
Housewrap between wall girts and siding
Vented sidewall overhangs
Ceiling loaded trusses with ceiling joists
Raised heel trusses to allow full insulation depth from wall to wall
Blow in R-45 to 60 of ceiling insulation
Reflective radiant barrier between purlins and roof steel
Good luck and let me know how things turn out!
Mike the Pole Barn Guru