Well, maybe not exactly the same building.
Yesterday I ran a beginning list of comparison's between a Hansen Building quote and a quote by one of our competitors espoused to be "exactly the same" by a client of ours.
The saga continues: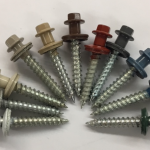 Powder coated diaphragm screws vs. #10 diameter painted screws . Those who are familiar with the properties of paint and powder coating know the first is far superior. Some more information on powder coated screws is available here: https://www.hansenpolebuildings.com/2012/08/lobular-powder-coated-screws/. There are structural challenges which occur when using industry standard small diameter screws, which we found out about only when we went to test a building roof: https://www.hansenpolebuildings.com/2012/08/this-is-a-test-steel-strength/.
Recessed purlins vs. stacked purlins. Stacked purlins go over the top of the interior roof trusses, which effectively lowers the truss by the thickness of the roof purlin, hence reducing interior clear height – you get less volume of usable space! Stacked purlins also attach to the trusses via "paddle" blocks, which are highly problematic: https://www.hansenpolebuildings.com/2012/05/paddle-blocks/.
Bookshelf girts vs. flat girts. Wall girts placed flat on the outside of columns rarely meet with the deflection criteria of the Building Code as can be found here: https://www.hansenpolebuildings.com/2012/03/girts/.
Inside closures at eave vs. no eave closures. Inside closures keep the flying critters out of your new post frame building. https://www.hansenpolebuildings.com/2015/12/the-lowly-inside-closure/.
True doubled trusses vs. Single trusses each side of columns. When two trusses are spaced apart by blocking, they no longer act as an integrated pair, each truss functions on its own. In the event of a critical roof load, if the weakest link is a flaw in one of the trusses, the entire roof could easily land on the ground. With true double trusses, they load share – and since the probability of two trusses having the exact same weak point is extraordinarily small, an overloaded roof is more likely to stay standing after the single truss roof has gone boom.
Engineered steel hangers to attach purlins and truss bracing vs. Nailed connection. There is a reason Building Officials like engineered steel connectors – they are a stronger connection! https://www.hansenpolebuildings.com/2013/08/simpson/
Ledgerlocks to attach trusses to columns (eliminates drilling huge through bolt holes) vs. Bolts. We are into providing buildings which are structurally sound as well as easily constructed by the average person who can and will read English. This truss to column connection is both!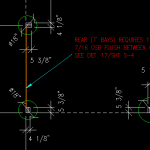 Engineer sealed plans and calculations vs. not sealed plans. My long term readers have read my harping on engineered plans. Here is why: https://www.hansenpolebuildings.com/2016/10/engineer-stamped-pole-barn-plans/
500+ page Construction Guide. Let's face it, it does not matter how good the design or materials are, if there are not explicit instructions on how to get everything together right. I've seen plenty of post frame building kit packages instructions in my nearly four decades in the industry. Absolutely nothing compares to what we provide.
Getting a better "deal" on a post frame building than what was quoted by Hansen Pole Buildings? And of course it is "exactly the same building" – let us review any competing quotes you are considering. The service is absolutely free of charge and if it is indeed an equal to or better building, and a better price, we will be the first ones to tell you so!