Roof Collapses Due To Heavy Snow Are Largely Avoidable.
Portions of this article are thanks to a February 25, 2019 article by Bill Steffan at www.woodtv.com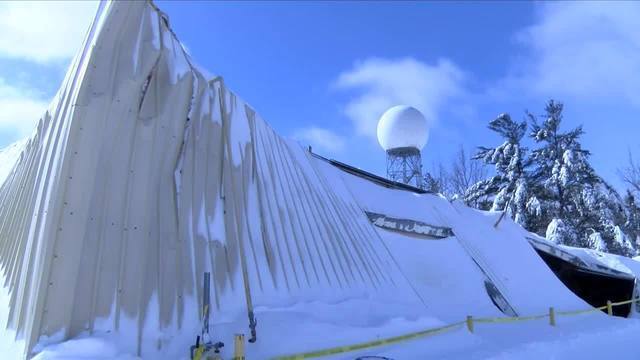 "Above pic. is the Negaunee Schools bus garage in Marquette Co., Michigan.  The roof collapsed under the weight of heavy snow over the weekend.  There were 16 buses inside the garage when the collapse occurred.  The collapsed triggered the sprinkler system and that led to a substantial accumulation of ice.  This was one of several buildings that had a roof collapse due to heavy snow in Marquette Co. 
Another collapse occurred at Shunk Furniture.  The force of the collapse blew out windows in the building.  "The first buildings to be concerned about are the pole buildings, the large-span pole buildings with truss spacings of eight foot or greater," said Gary Niemela, Owner of Skandia Truss."Those are usually the ones to be concerned about. Probably want to take the heavy snowload off. If the snowload is three to four feet deep on those, you're going to want to do something," said Niemela."
I am going to address several issues, all of them ones leading to a better investment of a new post frame building owner's dollars.
What, a Building permit?
In a surprising number of jurisdictions across our country, post frame (pole barn) buildings are exempted from a building permit process for one of several reasons. In some areas, there are just no actual building departments. Next step up is a "Building Permit" is issued for a minimal fee (usually in a clerk's office) usually to get it added to property tax reevaluations.

In my humble opinion every building should have RDP (Registered Design Professional – architect or engineer) sealed plans submitted to an authority who can do minimally invasive site inspections via one of a myriad of online live chat options. Permits and payments could be obtained electronically. This type of system could even be contracted out to third-party providers on a percentage type contract with carefully worded expectations so there is not someone having hurt feelings at a later date.

But I Have to Pay for a RDP!
Yes you do and a good one will save you more money than they cost (or give you a greater value) in efficient use of materials and ease of construction. Favorite articles is on this very subject: https://www.hansenpolebuildings.com/2018/08/minimum-design-loads-and-risk/.
Do Away With Risk Category I
I can hear people screaming now about how much more they are going to have to pay to get a building designed for a once in 50 year occurrence (Risk Category II) rather than once every 25 years. For practical purposes, you cut in half risks to life and property from a catastrophic failure. In many buildings added investment will be minimal, as compared to gain in reliability.
Insurance Company Discounts
Property insurers should offer some discounts for building from RDP sealed plans, as well as a further discount for buildings designed for above Code minimum climactic loads.