Minimum Design Loads and Risk
Model Building Codes, such as IBC (International Building Code), offer minimum design loads for climactic forces such as snow and wind. As building permit issuing agencies adopt codes, within their scope they can establish minimum values for their particular jurisdiction.
Key word here "minimum" – least values a building may be designed for and still obtain a permit to build.
I have long been an advocate for structural designs above minimum requirements. All too often potential new post frame building owners have not had adequate consultative design recommendations enough to find out increases in structural strength are often achieved with minimal investment.
For an earlier article concerning this subject please see https://www.hansenpolebuildings.com/2015/11/bike-helmets-and-minimum-building-design-loads/.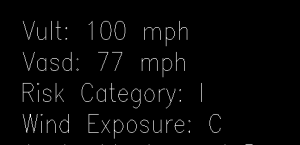 From IBC Section 1604.5, "Each building and structure shall be assigned a risk category in accordance with Table 1604.5. Where a referenced standard specifies an occupancy category, the risk category shall not be taken as lower than the occupancy category specified therein."
Balance of IBC Chapter 16, including Table 1604.5 may be perused here: https://codes.iccsafe.org/public/document/IBC2018/chapter-16-structural-design.
Buildings representing a low hazard to human life in event of a failure include agricultural facilities. In most jurisdictions, detached garages and shops are also considered to be a fit and these would be considered as Risk Category I. In many areas agricultural buildings are either permit exempt, or do not have to go through structural plan reviews and inspections.  Read a very expensive story about an agricultural building using minimal requirements: https://www.sbcmag.info/content/9/design-load-reductions-risk.
Risk Category I buildings are designed to allow for an occurrence greater than minimum design loads of once in 25 years (or a 4% chance in any given year). In theory, all buildings in this category should collapse within 25 years of construction.
Sobering, isn't it?
Shopping for a new post frame building and want yours to be last one standing when a storm of a century comes to visit? If so, I would hope whomever you are speaking with offers options of increasing Risk Category from I to II. And bumping up snow loads by 5, 10 or even more pounds per square foot and/or increasing design wind speed by a few more miles per hour.

If you are not offered these options – ask for them. I'd like to have your building be left standing!