Shouse (from www.urbandictionary.com):  "A portmanteau of "shed" and "house"; A structure that outwardly resembles a shed (typically having a roll-formed steel-sheet exterior) that is primarily used as a dwelling / house. Though not required to fulfill the definition, a shouse generally has garage(s) incorporated into the structure."
I did not even realize I was shousing before it became cool! My first personal shouse experience was at our home at Newman Lake, Washington over 25 years ago. We needed a garage to winter our boat in. One thing lead to another (including an expensive lawsuit with our neighbors – we won) and before we knew it, we were putting up a three story garage. Well, more technically a three story post frame building with a garage/shop on lowest floor and two more habitable floors above! Oh, and a rooftop deck!
Some jurisdictions are having challenges grappling with getting their heads wrapped around shouses and barndominiums. Here is a case in point:
From a June 4, 2019 a Quad-City (Davenport, Iowa) Times article by Lisa Hammer
"Someone has approached Mielke (Village President Mike Mielke) and asked about building a combination shop/house in a pole building, called a "shouse," in village limits. Mielke did not give him a definitive answer. Village attorney Mike Halpin will look into it and bring back suggestions. It was noted Andover already has one such structure. "We have one, but it just kind of happened," Mielke said. The existing "shouse" is located between Cedar and Elm on 7th Street and originally had a farmhouse on the property that was eventually taken down. Village Clerk Bev Josephson noted there can't be only a pole building on a property without a house, so people would have to build both at the same time."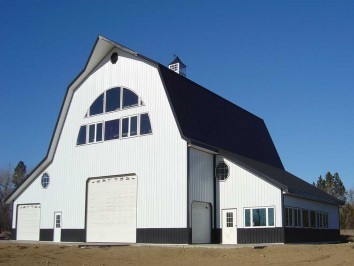 As long as your proposed shouse or barndominium meets planning and zoning requirements – adequate setbacks, allowable footprint, within any height restrictions and doesn't use unapproved siding and roofing materials you should be good to go. Post frame (pole) buildings are Code conforming – so an attempt to prohibit one strictly due to its structural system is a battle I will take up for you at no charge.
I will add that in fact my bride and I live in a 48×60 shouse with a full garage on the lower level, the "house" portion on the second level (complete with an elevator), a 18' width boat shed/shop on the west side and my 18' width office on the east side. It is a beautiful building, inside and out and we love it! The attached photo is our lovely shouse.
Ready for your new shouse? Give a call to a Hansen Pole Buildings' Designer at 1(866)200-9657 today to get started!