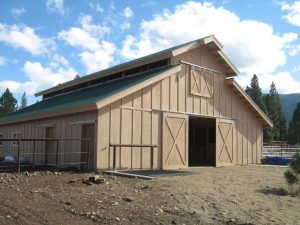 Any sort of construction project can feel overwhelming. From design to budget to execution, the process can cause strain and stress on even the best contractor. If regular projects weren't difficult enough, consider horse barn construction and the process of putting together something that is supposed to house multiple 1,000 pound animals. For a construction project that seems so daunting, most would elect to hire a team of professionals.  Unfortunately, building a horse barn is expensive, and most of us don't have the extra cash lying around to hire a contractor. So you're left with a project so grandiose that it would make even the expert DIY-er cringe. What's the best way to tackle a project this size? Simple answer: a horse pole barn kit.
What is a Pole Barn?
A pole barn will offer you the same style, size, and efficiency of any other barn structure without the contractor, and most importantly, for less cash. No style is out of the question when you elect to build a pole barn from a kit. Yes folks, these are not one-size-fits-all–you have options! From monitor to gable style barns, there is no style or feature you can't find in a horse pole barn kit. Want grid horse flooring? Not a problem. You can still make your barn fit your needs, just with a little manufactured help.
Why should I Consider It?
This handy alternative to building a typical horse barn will also save you tons of time. No looking for a contractor, pouring a foundation, or hiring a construction crew. The basic idea is that you're putting together a giant puzzle. All the pieces you need come manufactured for you, and you simply put them together. I know what you're thinking: putting together manufactured pieces sounds like my last Ikea adventure from hell. Let me reassure you, this isn't the case. Directions do not come in Swedish and putting it together will not cause any strain on your marriage. The idea behind these pole barn kits is that you can quickly provide a quality home for your horses, and not lose your entire savings in the process.
What's It Really Going to Cost Me?
So let's compare a few numbers. Say we are going to build a normal horse barn the good old fashioned way. This method will typically cost you about $45 a square foot. In contrast, a pole barn kit for your horses will generally run you anywhere from $7 – $25 a square foot. Potentially could save you some $20 per square foot! And on top of that, you don't have to pay anyone for labor. Not having to pay a contractor or a construction crew will significantly lower the cost of building your barn.
Bottom Line…
If you're in the market for a horse barn, pole barn kits are definitely something to be considered. There are hundreds of ways to personalize a prefab horse barn to fit your needs. With an already costly project, saving cash anyway you can is a must, and a manufactured pole barn may be the answer. If you have any questions or are ready to start designing your affordable horse barn, contact the experts at Hansen Pole Buildings and get planning!