As long as we are on the subject of designing for horses (see yesterday's blog), we should give a little attention to something which seems "not that big of a deal", but it really is…size of your horse aisleway.
If you start looking on the internet, you will find suggestions for an 8' aisleway, to allow two horses to pass.  But this is not nearly wide enough for all the "uses" of what you envision to be just a wide horse hallway between stalls.  Other sources advise 10' which is still not "enough" when it comes to being totally user friendly.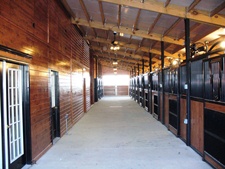 Let's go back to how I teach everyone to design their buildings.  My first question is always, "What are you going to use this building for?"  This translates to "What are you going to use this aisleway for?"  The answer will tell you what width you will need to design for.  First, the horses.  How many are you going to have?  Are you going to rent out stalls, or is this just a personal barn with a few stalls and tack room?  If you will have a lot of horses – figure a wider aisleway, as you can't bank on the temperament of every horse, especially if it's passing another horse tied up in the aisle.  Is the farrier going to have his pickup blocking the aisle for several hours, or just one?  How about the vet?  Does he need room to drive in with a trailer and easily load up a horse, or have plenty of room to work on it in the aisleway?
Even if you have miniature horses, but have a lot of them, and "show" these horses, you will want a 12' aisleway.  Why?  If the farrier is going to easily drive his pickup in and park it in the horse aisleway, you will need to be able to get around his truck while he is working.  Let's not forget being able to drive a tractor with a trailer or "hay hauler" down the aisle as well.  How many feed pails, tack trunks or wheelbarrows do you need to hit before you do a mental slap, "Why didn't I make the aisleway 2' wider?"!
Larger horses cross tied in the aisleway while you are working on them, whether brushing them down, or just saddling them – again if anyone else is going to walk by you with another horse, you will still need a good 12'.  This has been my standard "minimum" for comfort – of horses and owners.  I once again consulted with my daughter, Bailey, who trains Tennessee Walkers in Oregon.  She said she liked 14' and even 16' width aisleways, which I had not considered.  In a new horse barn the aisles looks so…WIDE.  But in a very short time, it starts to accumulate…clutter.  Even the best-designed horse aisleway becomes dangerous when feed cans, horse trunks, wheelbarrows and the like form an obstacle course. It's easy to see 5 to 6' can quickly be taken up and blocked by "stuff".
If you are debating between choosing 10' over 12' aisleway width,  or between 12' and 14', check out the price difference before you decide.  Another option is to stick with the narrower aisleway size, but be sure you have figured in enough tack room space to hold all the clutter.  For more versatility, you may decide to stick with a narrower aisle, put in enough length for two more stalls at the end, and then use one for more tack room space, and gain another stall.
This is another one of those, "when in doubt – if you can at all afford it – go wider".  You won't be sorry you did, especially if it means risking suffering a kick from a passing horse.