Post Frame Roof Top Decks
Question: Can decks be constructed upon a post frame roof top?
Answer: Yes, and it may prove far simpler than one might expect.

Our typical request from clients generally revolves around having a very slightly sloping roof and to use EPDM (ethylene propylene diene monomer) rubber as roofing over plywood. This solution might work, however very slight slopes tend to be problematic.
One of my own post frame buildings, located lakeside at Newman Lake, Washington, happens to have a rooftop deck. This particular building's location happens to be perched upon the rear (farthest distance from our lake front) of our steeply sloping lot. The 30'x36' building with a 10 foot wide enclosed shed off left sidewall has a total footprint of 40'x36'.
This building happens to be tall. Very tall – as in 40'6" from grade to roof peak. Besides garage level, it has two floors above. Upper floor clearspans a 30 foot width with floor trusses. This level also has a vaulted ceiling, provided by scissor trusses (I've written about this particular building's roof trusses previously: https://www.hansenpolebuildings.com/2018/08/post-frame-scissor-trusses/).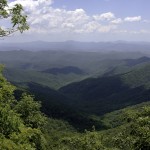 Knowing this building would be very tall, and there would be a 180 degree panoramic lake view, it was planned all along to have a rooftop deck.  Adding to design challenges, we wanted this deck to be capable of supporting weight of a hot tub and its occupants!
This deck would cover an area between pairs of roof trusses/sidewall columns, a space of 12 feet along the building length. Sidewall columns were extended through the roof steel, to support glu-lam beams. These glu-lam beams had their opposite ends supported by a roof truss system designed to carry concentrated deck loads (along with snow and ceiling loads).
Where columns and glu-lams penetrated roof steel, a thick, high quality rubber and acrylic elastomeric roof coating formulated especially for steel roofing was used. After over 20 years of service, no leaks have been experienced. Other solutions may have been to use EPDM rubber boots and flashing to seal penetrations.
Interested in roof top entertaining upon your future pole building? It can be done, just ask your Hansen Pole Buildings' Designer.