Things My Pole Barn Builder Didn't Discuss With Me

Somehow I feel as if this should be a Jeopardy question for $400…..

Reader MATT in BUFFALO writes:

"Hi there, my pole barn has recently been constructed and I'm now looking forward to insulating and finishing the inside. My hope is to drywall all interior surfaces including the ceiling. I realized as we were finishing the build that this was never really a discussion with our builder, specifically for the ceiling. I would like to add 2×4 or 2×6 ceiling joists 24″ on center and hang 5/8″ drywall for my ceiling finish and insulate somewhere in the r38 range with fiberglass. I do not intend on having any storage above the bottom chord, but will leave access to the space. My truss plans show a bottom chord dead load of 5.0 psf and states in the notes that the truss has been designed for a 10 psf bottom chord live load, although under loading it shows a bcll of 0.0. It also mentions for bottom chord bracing that a 'rigid ceiling directly applied or 5-8-15 oc bracing' is allowed. I think 5.0 psf leaves me just barely enough to finish this how I'd like, but I'd like to run it past someone with experience. I've unfortunately had the hardest time getting a hold of the truss designer/manufacturer. Thanks!!"
Mike the Pole Barn Guru writes:

Oh – things somehow never being discussed before a build gets started…..

Don't get me wrong, I am not blaming you.

Any responsible builder or building provider should thoroughly know their client's eventual end use for their building and offer some reasonable options to achieve those goals. Sadly – so many "professionals" know only how to sell on a cheap price rather than value added benefits to potential building owners.

Let's run through possible challenges –

Condensation control. Unless some provision was made to keep warm moist air from rising and touching underside of roof steel, it will "rain" in your attic. Solutions at time of construction (in order of preference) would be: a factory applied integral condensation control (https://www.hansenpolebuildings.com/2020/09/integral-condensation-control-2/), a well-sealed reflective radiant barrier (it really isn't insulation https://www.hansenpolebuildings.com/2014/04/reflective-insulation-wars/), installing over solid sheathing (OSB or plywood) with 30# felt or a synthetic underlayment, or Metal Building Insulation (https://www.hansenpolebuildings.com/2011/11/metal-building-insulation/).

If no provision has been made, your option now would be two inches of closed cell spray foam applied directly to the underside of roof steel.

Ventilation. When creating a non-conditioned attic space, it must be adequately vented. Gable vents can be Building Code conforming, however from a practicality standpoint, they only ventilate well closest to their location (building ends). Best design solution is intakes at eaves, exhaust through ridge. Here are your requirements: https://www.hansenpolebuildings.com/2018/03/adequate-eave-ridge-ventilation/.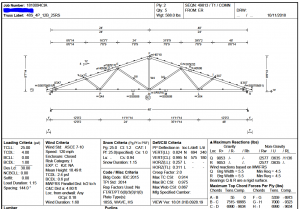 Most pole barn trusses are designed for a one psf (pounds per square foot) bottom chord dead load (BDCL) – inadequate for any type of ceiling. On truss spans of up to and including 40 feet, we include a five psf BCDL as a matter of practice (too many clients decide later on they want a ceiling) and if we know in advance a ceiling is to be installed, we use 10 psf BCDL. You have been fortunate to have at least a five psf BCDL. Your 10 psf bottom chord live load is a non-concurrent (assumes no other live loads are being applied such as snow) one and basically is there to provide a minimum degree of structural integrity allowing for occasional access to an attic space for maintenance purposes.

Depending upon span between trusses, size and grade of ceiling joists can be looked up at www.codes.iccsafe.org/content/IRC2021P2/chapter-8-roof-ceiling-construction#IRC2021P2_Pt03_Ch08_SecR802 scroll down to Table R802.5.1(1). In order to support 5/8″ sheetrock, ceiling joists should be spaced no greater than 24 inches on center.

Your actual dead loads will be roughly 1 psf for truss bottom chord itself (includes minimal wiring, lighting and truss bracing), 2×6 ceiling joists 24″ o.c. (I use one psf although actual load is slightly lower https://www.hansenpolebuildings.com/2013/02/2×6-lumber/) and your blown fiberglass (about a pound per cubic foot), so you should be okay. Cellulose or rock wool insulation are about three times as heavy as fiberglass, pushing to BCDL capacity, although my recommendation would be rock wool over other products as it is unaffected by moisture (fiberglass with even 1.5% moisture content can lose roughly half of its R value).