My long time readers have heard the stories of my framing contractor father and uncles. My dad was the oldest, and I cannot begin to count the number of times he spoke highly of his younger brother Gil's abilities to walk up nearly anything. Dad would tell stories of Gil walking up beams set at an 8/12 roof slope and swore Gil was part cat.
Seemingly Uncle Gil was just as at home and comfortable walking walls 50 feet in the air, as most of us are walking around our houses.
When I worked for Dad and the uncles as a teenager, it was Uncle Gil who would go out on Saturdays and mark all of the top plates, in preparation for Monday morning's roof truss deliveries. This included all of the non-load bearing interior walls as well as the exterior.
Back in the 70's (before most of you were born) not much consideration was given, in stick frame construction, to varying degrees of expansion and contraction of different components. Prefabricated trusses were still relatively new and were most generally treated like rafters and ceiling joists had been in hand stacked roofs.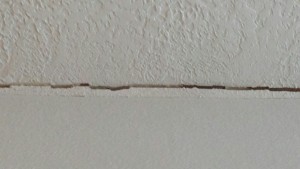 Well, it turns out there are some potential issues. I've got some of them in our home in South Dakota, compounded by the slight deflection in the 48 foot span floor trusses. We have very few interior walls, however those which are full height had the truss bottom chords nailed to them. I now have more than my share of cracked drywall joints due to variances in contraction and expansion.
A Hansen Pole Buildings' client recently asked about how we recommend attaching interior walls to trusses – even knowing our post frame building kit packages typically the exterior shells only, no interior walls.
It appears the best solution is to build interior walls ½" below the ceiling framing line, then use a Simpson Strongtie STC roof truss clip which keeps the trusses in alignment, while allowing for vertical movement of the roof truss.
By the use of drywall clips to attach the edges of the drywall and holding the first drywall screw back from the edges of the gypsum wallboard, allow the sheetrock to flex and minimizes the possibilities of cracking the drywall joints.