When it comes to planning for a new post frame home, shouse or barndominium, there are a myriad of questions and concerns to be answered and pondered.
Or, at least I hope you are – rather than just stumbling in blindly!
Reader NICK in NORTH CAROLINA writes:
"Hi, I'm looking into options for building a post frame home in the coming year in NC and wanted to understand more of the details regarding you current building products and suggested techniques.  
Do you provide a means to support the posts on top of the concrete pillars with a bracket vs the post being embedded into the concrete?
Your current package only provides for insulation of the roof, no interior walls, correct?
Can another 2×6 skirt board be added to the inside of the building to isolate the concrete flooring from the post and to provide a cavity for insulation to be installed between the outside/inside girts?
Do you have a listing of contractors that are familiar with your products in given areas that could be used to build the structure?
If using the design service listed for $695, does that include the design for all interior walls/rooms/fixtures as well as electrical/plumbing/mechanical?
Thanks for any information you can provide."
All good questions. In answer to them:
Yes we can provide plans with a third-party engineered design for bracket set columns, as well as brackets. https://www.hansenpolebuildings.com/2019/05/sturdi-wall-plus-concrete-brackets/
We typically recommend using either a Reflective Radiant Barrier (https://www.hansenpolebuildings.com/2017/05/effective-reflective-insulation/) between roof framing and roof steel, or using roof steel with factory applied Dripstop https://www.hansenpolebuildings.com/2012/11/drip-stop/
We can provide batt insulation for walls and/or ceilings, however there are more energy efficient methods of insulating https://www.hansenpolebuildings.com/2018/06/pole-barn-insulation-oh-so-confusing/
It (extra 2×6 interior splash plank) could, however there are structural advantages to having columns surrounded (constrained) on exterior splash plank interior. (https://www.hansenpolebuildings.com/2018/11/importance-of-constrained-posts/) I'd recommend doing a Frost Protected Shallow Foundation post frame style instead: https://www.hansenpolebuildings.com/2017/09/post-frame-frost-walls/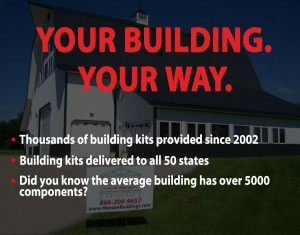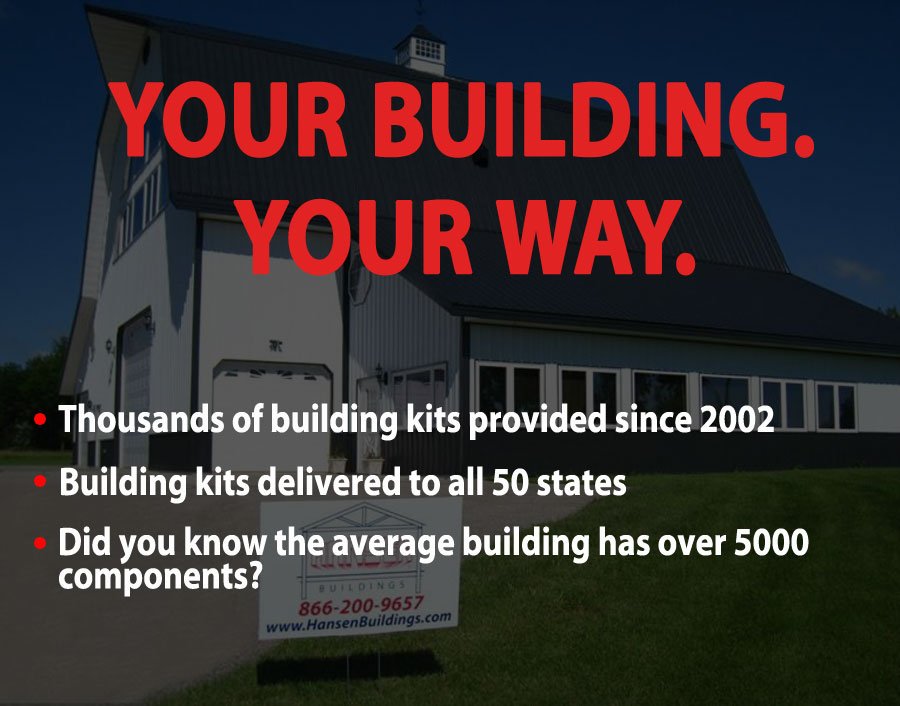 Although our buildings are designed for an average literate English speaking person to successfully construct their own building (most of them do, and do a wonderful job – because they will read and follow instructions), for those who do need an erector, in many areas we can provide contacts for you to vet.
Our floor plan and elevation package offer (http://www.hansenpolebuildings.com/post-frame-floor-plans/?fbclid=IwAR2ta5IFSxrltv5eAyBVmg-JUsoPfy9hbWtP86svOTPfG1q5pGmfhA7yd5Q)  includes all interior walls, rooms and fixtures. For an added fee you can include electrical/plumbing/mechanical (note: typically all of these last three services can usually be provided at no charge by subcontractors who will be doing these specific trades).
Please feel free to reach out to me at any time with questions. An answer to most questions can also be found at www.HansenPoleBuildings.com by clicking on SEARCH in the upper right hand corner of any page. Type in a word or two and hit ENTER and up pops relevant articles.