Sturdi-Wall Plus Concrete Brackets
Long time readers will recall a previous article regarding Sturdi-Wall Plus concrete brackets:
https://www.hansenpolebuildings.com/2012/09/concrete-brackets-2/
Sturdi-Wall Plus brackets are a heavy-duty engineered anchoring system for attaching wood columns to concrete foundations and are generally used in post-frame buildings but have other applications as well. These brackets are made with ¼ "steel plate A706 rebar in either # 4 or # 5 size, depending on model.  Each bracket is precisely welded to meet engineering specifications and given a professional look with a baked polyester powder coat finish. Some brackets are available in a Hot Dipped Galvanized model for use in more corrosive environments.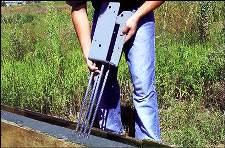 Sturdi-Wall Plus brackets are used in a wet set concrete application and provide highest strength bracket to foundation connection when concrete is fully cured. SWP brackets require less concrete coverage than Sturdi-Wall brackets, allowing them to work well in pier foundations, post repair, and renovations. #4 rebar is used in all Sturdi-Wall Plus brackets, except SWP 8 Series where #5 rebar is used. Sturdi-Wall Plus brackets are available in Standard, OT and GL models.
Standard Models – Accommodate dimensional lumber and laminated columns, typically nailed together with no additional machining.
OT Models – Accommodate some planed laminated wood columns usually mechanically fastened and glued together.
GL Models – Accommodate most planed and glue laminated wood columns (glulams).
In March I attended NFBA's (National Frame Building Association) 2019 Expo where I met with PermaColumn's team and recorded this live video for you:
Ready for your new post-frame building, but don't want to place columns into ground? Sturdi-Column Plus brackets may be just your solution. Call and discuss with your Hansen Pole Buildings' Designer today at 1 (866) 200-9657.