Am sure yesterday's blog posting on moments left a few folks scratching their heads. There actually was a method to my madness, as it leads into today's topic.
Many may have seen various column bases at their local lumberyard or big box store. Manufactured by either Simpson or USP (similar to Simpson CB66), these products have some serious, and perhaps fatal consequences if used to support posts in a pole building.
Why?
These bases are not designed to resist overturning (moment) loads. Now this poses a challenge – how to connect post frame building columns, to a concrete foundation?
There is a solution…..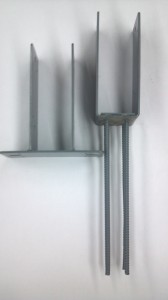 Sturdi-Wall concrete brackets are a heavy duty anchor system designed to connect post frame structures to traditional concrete foundations such as: monolithic slabs, formed walls, and existing concrete pads.
There are two types of Sturdi-Wall concrete brackets. When drill setting is preferred, the standard Sturdi-Wall is used. When setting into wet concrete, the Sturdi-Wall Plus is used.
One challenge, not directly mentioned by the product manufacturer, is the standard Sturdi-Wall concrete bracket is not designed for moment loads. Post frame buildings want to overturn; they do induce moment loads, which leads me to discourage people from using the standard bracket for this application.
Wet set installation with Sturdi-Wall Plus brackets provides the highest ultimate strength connection to a foundation, but requires being installed while the concrete is still wet. This technique avoids time consuming drilling with a masonry bit and expensive concrete anchors. Sturdi-Wall Plus concrete brackets require less concrete coverage than normal Sturdi-Walls, allowing them to work well in pier foundations.
A pier foundation would be one where isolated holes are augered or dug, then poured full of concrete.
For cases where, for whatever reason, it is desired to NOT place pressure preservative columns into the ground to support a pole building, the Sturdi-Wall Plus concrete bracket provides an solution which is capable of resisting uplift, shear and moment forces.
See, it was worth struggling through yesterdays' blog on "bending moment" to make you "in the know" for today!