From reader Paul in Bismarck: "How do you deal with the requirement for a 4 foot frost wall on buildings that will have plumbing installed in them. Typically, the concrete footing on a stick built structures qualifies as the frost wall. How is this accomplished with a pole building that will be used as a residence?"
 Mike the Pole Barn Guru writes:
I would look towards a variant of the Frost Protected Shallow Foundation (FPSF) system as a solution.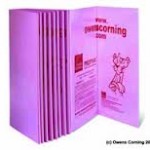 Set the columns in the ground so the base of the column is at or below frost depth. Backfill the bottom portion of the hole with premix concrete, making sure to not have the concrete more than 24 inches above grade. You will have to dig a trench along the outside of the columns all the way around the building. The trench will need to be approximately 24 inches deep and the width will vary depending upon the location along the building perimeter (it will have to be wider at the corners). After the skirt boards/splash planks are installed, place a 24 inch tall minimum R-12 expanded or extruded polystyrene insulation board on the inside of the skirt board, with the top edge four inches up from the bottom of the skirt board.
Extruded polystyrene insulation will be placed horizontally outward (in the trench) from the vertical insulation. In your climate, probably a minimum of R-12 along the walls and R-15 at the corners. The corner area will extend at least 80 inches along the walls from each corner and out 48 inches. The balance of the walls will be out 36 inches.
Now the difference between "typical" FPSF and the post frame version – instead of pouring a thickened slab, backfill on the heated side of the vertical insulation with clean sand, then just pour a slab on grade inside the building. There is no "magic" to the insulating value of concrete, so I see no reason to throw concrete into making the edge of the slab thicker when it is merely being used as backfill and supports no downward weight.
Areas without the extreme cold winters Bismarck has could get by with lesser amounts of insulation.
Download a free copy of The Revised Builders Guide to Frost Protected Shallow Foundations here: https://www.scribd.com/document/341135783/Revised-Builder-s-Guide-pdf