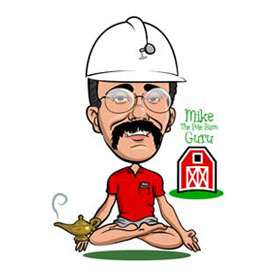 Welcome to Ask the Pole Barn Guru – where you can ask questions about building topics, with answers posted on Mondays.  With many questions to answer, please be patient to watch for yours to come up on a future Monday segment.  If you want a quick answer, please be sure to answer with a "reply-able" email address.
Email all questions to: PoleBarnGuru@HansenPoleBuildings.com
DEAR POLE BARN GURU: I am building a 24'x32′ pole barn type shop using 5 clerestory trusses in which I will install windows in the verticals for natural light. I want the roof shingled and insulated. Is there a way to frame in roof rafters between the trusses to carry the weight of the roof sheathing and to use batt insulation underneath? SCOTT IN ELLERSLIE
DEAR SCOTT: For sake of discussion, we will assume the trusses have been engineered to carry the weight of all of the materials you will be adding.
In order to use batt insulation as you propose, Code requires there to be at least a one inch air space between the top of the insulation (which must be unfaced) and the underside of the roof sheathing. This space must be vented at eaves and peak, and airflow must not be impeded.
Just off the top of my head (and knowing nothing about how your trusses are constructed), I'd probably look at placing a header at the eave and peak, which would carry 2×12 rafters placed every 24 inches and running the same direction as the trusses. Insulation batts up to 10-1/4 inches thick could then be placed between the rafters.
You should consult with the RDP (Registered Design Professional – architect or engineer) who designed your building, to confirm sizes and connections of members, as well as their adequacy to carry the imposed loads.
Mike the Pole Barn Guru
DEAR POLE BARN GURU: My name is Ben, and my husband and I plan to build a timber pole house in the mountains around Luray, VA. We are still in the planning stages, but are already working on the design stage of the house. I wanted to reach out and see if you offer the type of services we need, even though your website seems like you would be just perfect.
As a quick summary of our needs:
I am a 3d artist and am laying out the space in 3ds max to get an idea for room size, arrangement, and other proportions. However since I am not an architect, I need someone to go over the design, make it useable, point out any problem areas I am unaware of as a non-architect. Also being able to get all the materials cut and shipped to our building site is a huge plus.
Additionally, as we are still researching land, I would like input on what to look for based on our design, and then after land is procured, any adaptations needed for our plan to fit the space (the biggest thing I am worried about, is pile depth for the timber piles to pass code and be structurally sound). We plan on a 2 story building, so it's likely the max timber height above ground would be around 35 feet for some of the timbers. We also plan to build on a mountain side, so the timber length would vary.
Is this the kind of service you can offer?
Thanks so much for your time,  BEN AND AGUST IN LURAY
DEAR BEN: We can supply columns up to 60′ in length, so you should not have any difficulties with what you have in mind – nor will needing various lengths be a challenge.
Our designs do not incorporate interior non-load bearing walls, as we have found room sizes tend to change greatly once the exterior shell is up and clients get a much better feel for what each room will do, as well as for orientation. Always try to work from the inside out – determine (at least close to) the area of the spaces you will need and then orient these spaces to be most functional for your lifestyle. Then create an envelope which fits around your spaces.
The ultimate location may (and should) play a great deal into the final design. Orientations should be such to take advantage of the most practical approaches to the site, as well as views and exterior living spaces (decks and patios).
Keep in mind – any pricing done now, is based upon where markets are at today. Lumber and steel are commodity items and prone to a great deal of variability which is beyond anyone's control. Allow plenty of safety cushion in your budget, it is always a pleasant feeling to have more money left over, than having to scramble because things were planned too tight.
Mike the Pole Barn Guru
DEAR POLE BARN GURU: I am interested in pricing for a pole barn/apartment.  I am selling my house and will be purchasing roughly 15 acres of land.  I would like a pole barn constructed on the land.  I intend on building my own home which will take some time.  I would like a two story pole barn, with the upstairs being the finished apartment with somewhere around 900 square feet so I can live on my property while my house is being built.  Is this something that you would be able to do?  Thanks for your time. JEFF IN CINCINNATI
DEAR JEFF: Thank you very much for your interest in a new Hansen Pole Building. We provide post frame (pole barn) building kit packages similar to what you have in mind on a regular basis. You will be contacted shortly by one of our Building Designers to get more detailed information as to your exact needs.
Mike the Pole Barn Guru