Part of the mission of any good post frame (pole) building kit package supplier or contractor should be to save the client from making crucial design errors which they will later regret.
Among the most often questions I answer in my "Ask the Pole Barn Guru" weekly column is in regards to the ability of an existing building's roof trusses to carry a ceiling load. I've expounded in this area in the past:
https://www.hansenpolebuildings.com/2013/03/ceiling-loads/
With a client who possibly did not communicate their needs well: https://www.hansenpolebuildings.com/2015/04/ceiling-load-2/
Existing buildings: https://www.hansenpolebuildings.com/2013/10/ceiling-load/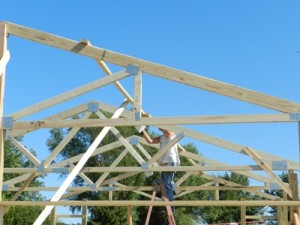 This morning Hansen Pole Buildings' Designer Dennis asked a question of me which I had failed to address in the past 1000 plus blog posts, "I was looking on blogs couldn't find difference between roof trusses designed for ceiling load and not designed".
Like most anything here at Hansen Pole Buildings, ask the question and ye shall receive an answer.
Increasing the ceiling load carrying capacity of a roof truss can result in one or more of many changes. Generally there will be more changes to the physical nature of the trusses as the span of the truss, or roof snow loads increase.
Here are some of the things which might change:
Grade of lumber. The #2 grade lumber which one might acquire at the local big box store or lumberyard is rarely strong enough to be used in most truss chord applications. Most generally one finds the use of #1 or Select Structural visually graded material, or what is known as machine graded lumber (https://www.hansenpolebuildings.com/2012/12/machine-graded-lumber/). Often the need for increased load carrying capacity can be accommodated by a step or two up the ladder in the strength of the lumber.
Sometimes, stronger lumber alone, will not be the cure and larger dimensions of lumber may need to be utilized. 2×8 instead of 2×6 as an example.
Truss webs – those internal pieces of the truss, the ones running at angles between the top and bottom chords are known as "webs". Sometimes the extra load capacity can be gained by adding more webs to the truss.
And let us not forget the lowly steel connector plates, which hold prefabricated metal connector plated trusses together. All of those joint connections now have to take an increased load, so there is going to be more square inches of steel utilized to do the trick.
The important part is less about HOW the load is going to be carried, and all about the ABILITY to carry it. Considering a new post frame building? If you think either you or the next owner or owners of the building might ever consider adding a flat level ceiling in the building, then it would be prudent to (at the least) order trusses designed to support the load now.
This is not the place to scrimp out trying to pinch a few pennies!