Two good ole' boys from Texas get the idea to go into the watermelon selling business. They can drive their pickup across the border into Mexico and buy watermelons for a dollar each. So, they drive across, get a load, bring them back into Texas and set up a stand alongside of the road with a big sign, "Watermelons a dozen for $10". They quickly sell out and, after counting their take realize they lost money. One says to the other, "We need to get a bigger truck".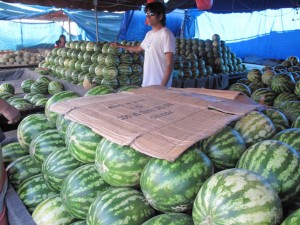 Nearly four BILLION (yes, with a B) pounds of watermelon are produced in the United States each year. 2/3 of these are grown in four states – Florida, Georgia, California and Texas. Once the watermelons are picked, they need to be sent somewhere to be processed – which is where the post frame (pole) building comes into play.
In the watermelon packing barn, a sophisticated system can automatically sort the melons by weight, distributing them into the appropriate bins.
Check out this video to view how it is done:  https://www.youtube.com/watch?v=eVklHoxOXXI
Now, with most of the production (and packing) being done in states where temperatures tend to be on the warmish side during harvest, it only makes sense to have the watermelon packing barns be at least partially open, in order to allow for natural airflow to keep the workers to even a somewhat comfortable working temperature.
Well, leave it to governmental intervention – the FDA (Food and Drug Administration) Food Safety Modernization Act of 2010 was signed into law by President Obama in January of 2011. This law was a resultant of many reported incidents of food-borne illnesses in the ten years prior, which cost the food industry billions of dollars in recalls, lost sales and legal expenses.
Now none of us want to get sick, however in some cases common sense, or lack thereof, may have played a part – one of the requirements made watermelon packing barns have to be fully enclosed!
Courtney Cox, who as director of quality assurance for Primus AuditingOps, follows up on grower complaints stemming from third-party audits by her company, told the National Watermelon Association's Convention the single most common non-compliant issue in the watermelon industry  — with 76% of facilities — is the mandate for four walls.
With this mandate in place, new watermelon packing pole barns can be designed as fully enclosed, however utilize a significant number of large overhead or coil doors which can be opened to allow for adequate airflow for the comfort of workers.