Bad Energy Efficient Pole Barn Advice from GreenBuildingAdvisor.com
Long time readers of this blog have seen ample posts about energy efficient post frame (pole barn) buildings. As most are aware, there is as much bad information (maybe more) than good available on the internet. Whilst I'd like to believe Martin Holladay at www.greenbuildingadvisor.com is fairly knowledgeable – when it comes to his answers on this particular subject, he has (in my humble opinion) missed the mark.
Here are a few of Martin's comments:
"The main problem with insulating a pole barn is creating a good air barrier. There are many opportunities for air leakage: between the insulated sections of the wall and the vertical posts; at the base of the wall (which either meets dirt, gravel, or a concrete slab); and at the intersection of the wall and the insulated ceiling. You should strive for airtightness when you create this assembly. It won't be easy — but do your best."
"It's tough to insulate a pole barn. First, there is the question about the floor. Do you have a slab or gravel? If it's a gravel floor, it's hard to air-seal the bottom of the walls. If you have a slab, we'll need to know your climate zone or location, so we can recommend whether you need a horizontal layer of rigid foam under the slab. Next, you still have issues of how to support the insulation. In most pole barns, you don't have studs. You have posts and horizontal nailers between the posts. This makes air sealing difficult, and using conventional insulation difficult. The best way to proceed is to work on the exterior side of your structural frame. Again, either SIPs (structurally insulated panels) or nailbase is one approach — and if you use SIPs, you could skip the pole barn structure, and just build a SIP building. Another approach is to install a stud wall on the outside of your pole barn to hold the insulation — but again, this raises the question, why not just build an ordinary building with stud-framed walls if you need it for insulation?"
"I'm afraid that 'energy efficient pole building' is an oxymoron. If you want to make a pole building energy-efficient, you pretty much have to build an entirely new building — either inside the pole building or outside the pole building — to create an air barrier and provide somewhere to install the insulation. That's why people who are interested in energy efficiency don't choose dirt floors or pole construction. However, if you decide to let go of the idea of energy efficiency, you can certainly build a dirt-floored tiny house with a pole frame."
Mike the Pole Barn Guru Advises
Maybe the thought of all post frame buildings having dirt floors should be thrown out of the discussion. From experience the only post frame buildings which have dirt "floors" are ones which are always going to be pure agricultural or storage buildings and will never be climate controlled, or they are dwellings with wood floors elevated above a crawl space.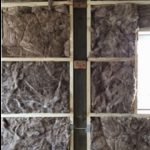 The air barrier issue for post frame construction is resolved the same way a stud framed building would be – utilize a quality building wrap between framing and siding, then insulate between girts (think studs run horizontally). Thermal transference in walls can be reduced by having an interior set of wall girts to support inside finish surfaces such as gypsum wallboard. This is far less material intensive than the double studwall system promoted by some stick frame builders.
Wall insulation for post frame buildings can run the gamut from unfaced fiberglass batts, to BIBs (https://www.hansenpolebuildings.com/2011/11/bibs/), to closed cell spray foam or combinations thereof, just like studwall construction.
Top of wall to insulated ceiling transition is the same for either form of construction. Raised heel trusses (https://www.hansenpolebuildings.com/2012/07/raised-heel-trusses/) allow for full thickness of insulation above the perimeter walls, and should be utilized in any case with a climate controlled building.
For slab on grade applications frost-protected shallow foundations (https://www.hansenpolebuildings.com/2016/11/frost-protected-shallow-foundations/) are a practical solution, with post-frame holding an advantage in not having to have a thickened edge of the concrete floor.
Designing for energy efficiency? Look no further than post frame construction – at the corner where energy savings and cost savings meet!