R Panel Gable Vents
"R" steel roofing and siding panels are typically used on all steel buildings where larger spans occur between wall girts and roof purlins. With a three foot width net coverage, these panels have a 1-1/4 inch tall high rib every 12 inches with two low stiffener ribs between. R panels do not have a full underlapping (or purlin bearing) underlap. This lack of a purlin bearing underlap makes this product both less expensive (as it can be roll formed out of a narrower steel coil) and more difficult to install. Without careful placement at laps, panels tend to "walk" with one or both panel ends covering more or less than the necessary three feet.
Very few all steel buildings make provisions for ventilation. Rarely do they include sidewall eave overhangs, leaving no place for an eave air intake through a vented soffit.
So, how to vent?
Reader STEVE in PHOENIX writes: "Mike,
Hello. I've been researching venting options for an existing clearspan type red steel metal building and was directed to your snap in style gable vents for ribbed metal panels.  My building is covered with R panel metal siding…..the high ribs are 12″ on center (pic attached). I've been working with Justine on selection and pricing of your gable vents.  Will your vent panels work with this siding and if not, do you have a venting solution for this building? Thanks."
My reply:
R panels typically have 1-1/4″ high ribs. I do not believe the snap ring vents will work with ribs higher than 3/4″ (Justine can confirm). If not, then you could use a standard gable vent with a J Channel surround. Just like snap ring applications, cut the hole in siding for the vent (make it 1/4″ taller and wider than the vent you will push through the hole). Cut J Channels to fit the vent, with interlocking and overlapping corners (just like a non-integrated J Channel window). Insert individual pieces of J Channel into the hole, joining corners as you go. Slide vent into J Channel "picture frame" using lots of caulking between vent and J Channel and at each of the J Channel corners.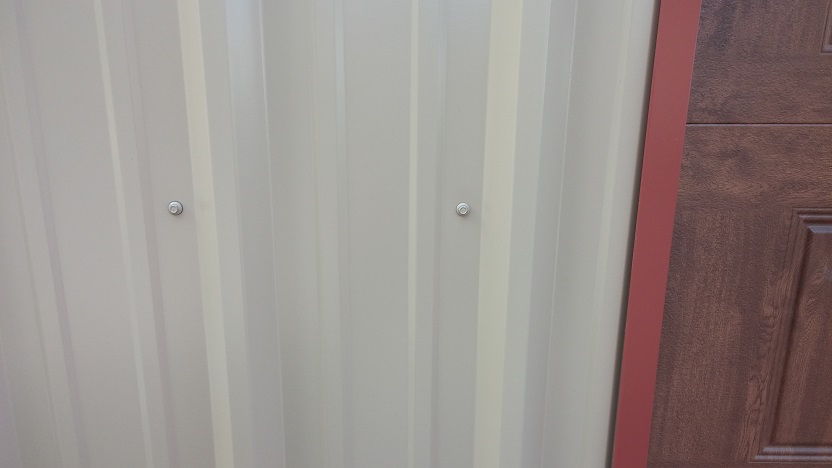 Snap ring vinyl gable vents (https://www.hansenpolebuildings.com/2018/07/vinyl-gable-vents-for-pole-barns/) make installation a breeze and can quickly be installed in post frame buildings with steel siding with ribs no higher than ¾" . When designing your new post frame building discuss ventilation with your Hansen Pole Buildings' Designer at (866)200-9657.