Vinyl Gable Vents for Pole Barns

Attic venting for post frame (pole barn) buildings is a challenge which can be resolved by the use of vinyl gable vents.
Reader KEN in BERRYTON writes:
"I have a pole barn with the ribbed siding, 3/4″ high ribs at 9″ spacing, with two smaller ribs in-between at 3″ spacing.  I need to add end wall gable vents (because I failed to have it built with eaves) because I want to install insulation in the ceiling and walls.  In reading your web information on gable vents, it seems that the vents you offer fit over the ribs as opposed to what I might find at my local Home Depot.  Can you clarify whether the vent you provide fits over the ribs so that I can get a weather tight seal.  If not indexed for the ribs, I am at a loss to understand how you can seal the vent against the ribbed siding.  Any guidance you could share would be very much appreciated.
I also read in a Q/A that dividing the square footage by 300 gives you the number of square inches of vent required.  My building is 60×30 which gives 1800 square feet divided by 300 would be 6 square inches.  I wonder if this is a misprint, that it should be 6 square feet." 
Mike the Pole Barn Guru responds: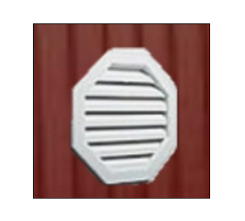 The Hansen Pole Buildings vinyl gable vents are designed with a "snap ring" which goes on top of the high ribs of the steel. To install, remove the snap ring and use the inside edge of it as a template to draw the location of the vent on the siding. Remember to cut just outside of the line, so the vent can be pushed through from the inside. Once it is pushed through, snap on the snap ring and you have a sealed vent! Just this easy and requires no extra framing.

And it is square feet, not inches. In your case you would need to have at least three square feet of net free area venting on each endwall, and it would need to be located in the upper half of the dead attic space. Just as an example an 18″ x 24″ rectangular vent will typically provide about 140 square inches of net free area.

The 2012 IBC (International Building Code) ventilation requirements may be accessed here: https://codes.iccsafe.org/public/document/IBC2015/chapter-12-interior-environment please see 1203.2.