Meeting Barndominium Perimeter Slab Insulation Requirements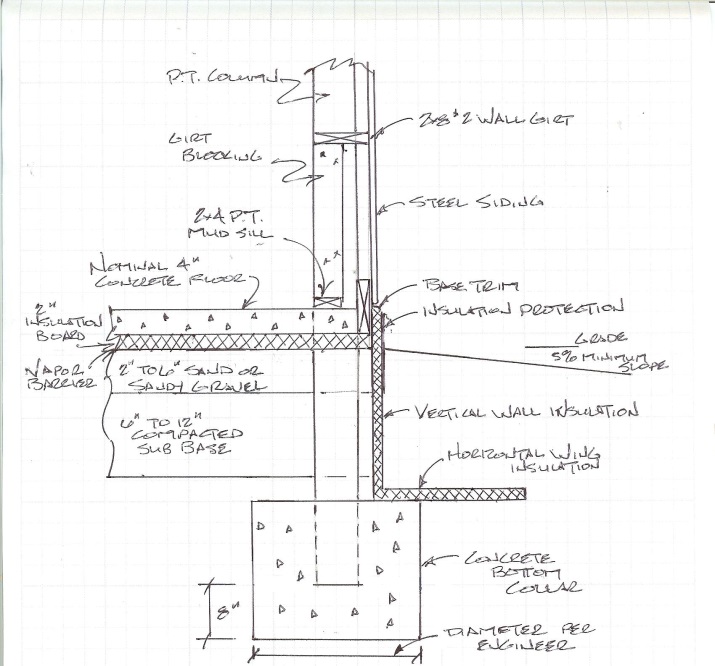 Our world (at least my world) of post frame buildings has evolved quickly into residential construction of barndominiums, shouses (shop/houses) and post frame homes. Having built two shouses for myself, I have learned a lot about what to do and not to do, as well as receiving helpful contributions from thousands upon thousands of loyal readers such as JOE in BEDFORD who writes:
"Long time reader, first time poster. I'm in the middle of planning & prepping to build a post frame house (48′ x 60′ x 10′) for myself & I have some basic questions on how
to meet both the IRC & IECC codes for the foundation/floor systems. In PA (climate Zone 5) how is it possible to continuously insulate the "footings" (down 3′ – 4′) of my barndominium to prevent frost heave/moisture intrusion/etc? Wouldn't that require digging a continuous "footing" thus defeating the main purpose of a post frame design?
To add to that thought, most "floors" of post frame houses are slab on grade concrete (with radiant heat in slab I assume), which to meet the IECC code for a heated on grade slab, it requires R-15 down 2′ on the slab edge (plus R-10 for the underslab insulation). See link below:
https://www.phrc.psu.edu/assets/docs/Webinars/SlabInsulation.pdf
>From my understanding, the savings & efficiency of post frame houses comes from not having to excavate, pour & then backfill a continuous footer + stem wall (or footer with a slab on grade floor). How is it possible to meet these challenges & codes with a post frame design method? If you have to excavate a continuous footing & then insulate the footing & the house floor is going to be insulated & poured either way, wouldn't the "stick frame" method be more cost effective at that point then?
Thanks for the help & clarification!"
Mike the Pole Barn Guru responds:
Appreciate your being a long time reader, hopefully you have found my articles to be informative and entertaining.
Thanks to glories of rigid board insulation, you can still do standard embedded columns, pour a slab on grade and meet insulation requirements to prevent both frost heave and to keep from having to heat ground outside and underneath your building (see drawing). Requirements for insulation and thickness can be found here: https://www.huduser.gov/publications/pdf/fpsfguide.pdf.
Even if you were to opt to pour a continuous footing, post frame construction will still prove to be more cost effective due to elimination of redundant members and structural headers inherent to stick construction. Post frame is easier to super insulate (fewer members touch both exterior and interior surfaces), you can create some unique architectural features not easily done with stick frame construction and you can easily DIY it should you be so inclined.