Loyal reader SCOTT writes:
"Good Morning,
First, thank you for the amount of information you post through the Pole Barn Guru section.  There have been a wide variety of questions, and thoughtful responses posted.
One of the points my father had was, why do a post frame if you have to go back and stud to support drywall?
I am still curious about the proper finishing of the interior or perimeter walls, but I can see you spoke much to deflection and making sure the building was engineered to withstand natural forces.
All this said, I am close to Fort Wayne, IN, and was curious if you offer and service this far away, or if you have knowledge of a reputable company that has tacked post frame residences.
The design we have in mind is quite simple, as we are really only looking at post frame due to the simple fact we could have half (or more) of our house completely open.
We like the idea of having our kitchen, dining, entryway, and living room all part of one open space.
Thanks for the great info on the site, and good luck in your future projects!"
Mike the Pole Barn Guru writes:
Thank you very much for your kind words, they are appreciated. If we are able to inform and entertain you then our mission has been successful.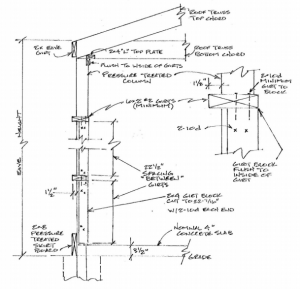 Even if one decided to stud frame to support drywall (there is a one-step framing method for exterior walls: https://www.hansenpolebuildings.com/2017/08/bookshelf-girts-insulation/) there is a huge savings to be had from post frame construction (https://www.hansenpolebuildings.com/2011/10/buildings-why-not-stick-frame-construction/).
For interior walls – they can be studwall framed and since they are not supporting a roof load, they can be placed wherever you desire (or large portions can be left open). In our own post frame home, 3/4 of our floor plan is wide open without interior walls. Our home happens to be entirely on a second floor, and given the challenges of accessibility I normally encourage clients to keep their home designs on a single level and for comfort and ease of living construct them over a crawl space.
We provide post frame homes in every state in the United States, including Alaska and Hawaii – so Indiana almost feels local!
One of our Building Designers will be in contact with you to further discuss your needs.