Multi-story Pole Barns
Hansen Pole Buildings has developed a reputation for taking potentially challenging post frame (pole barn) building projects and developing them from concept to fruition. This leads many clients, with an interest in multi-story pole barns, to our doors.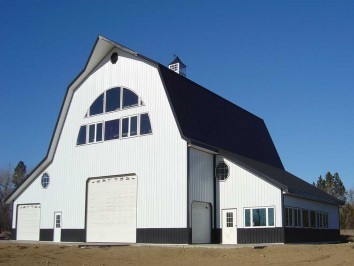 My own post frame building home, along Lake Traverse South Dakota side, features both a second floor and a mezzanine (partial third floor) where my lovely bride has her sewing and quilting projects in various stages of assembly.
Our house Northeast of Spokane has two multi-story post frame buildings. Both of these happen to be constructed upon sites with a significant grade change. One of them has a 22' x 24' garage, with a studio apartment below and an office above (located in attic bonus room trusses). Tallest of these has been located near property rear. 40' x 36', it has a three vehicle garage space in lowest level, a full second floor, as well as a third floor (and a rooftop deck).
More reading about this building can be found here: https://www.hansenpolebuildings.com/2012/02/grade-change/.
Reader K.F. in ONTARIO writes:
"I would like to build a pole barn with a 10' lower level and an 8' upper area, with the dimensions 30×48. I would expect that the poles would need to be around 19-20' long (above grade). That seems like a very tall pole (3x-2×6). What is the best way to build two levels and how does the upper floor go in?"
In my humble opinion, multi-story post frame buildings should always be designed by a Registered Design Professional (RDP – architect or engineer). Risks are far too great for an average person to safely and competently design a multi-story pole barn.
As to heights, one needs to look to how they desire to best utilize spaces being created. If interior columns are not an issue, a floor thickness of around a foot should be allowed for between levels. Don't like having to maneuver around posts? Then floor trusses (https://www.hansenpolebuildings.com/2017/01/wood-floor-trusses/) might be a design solution. Roughly allow about an inch of truss depth for every foot of floor being spanned. Obviously, higher than residential weighted floors will necessitate a need for greater truss thickness.
Many multi-story post frame buildings are used residentially. If your proposed building will be climate controlled have roof trusses designed with raised heels (https://www.hansenpolebuildings.com/2012/07/raised-heel-trusses/) in order to provide full thickness of insulation from wall-to-wall. In colder climates, with a R-60 attic insulation recommendation, raised heel trusses could be as deep as 22 inches!
With a clearspan floor and raised heel roof trusses, ceiling heights desired by K.F. could result in sidewall heights of over 22 feet.
Not to fret – glu-laminated technology has allowed for one piece columns to be manufactured up to 60 feet in length. My own South Dakota building has columns as long as 50 feet.
As to how an upper floor goes in, this is where RDP experience comes into play. I have witnessed far too many instances of poor design practices of second floors without an engineer's knowledge involved.
Looking for a multi-story pole building? Look to a post frame building kit supplier who works with a RDP to provide engineer certified plans for your building. Much better safe and standing, than flattened.