This week, the Pole Barn Guru discusses moving a building, a building with moisture issues, and siding options other than wainscot.
DEAR POLE BARN GURU: We have a 50 year old Morton machine shed 45X90X12. The posts and trusses are in excellent condition. The roof steel needs to be re-screwed and painted . The side wall steel probably needs to be replaced. The big problem with the building is its location. Our grain drying and storage has grown over the years and now we use semis instead of straight trucks and wagons. the machine shed blocks the grain dump so we have to back every semi in to unload and load. If we could move the shed about 60 feet north and 15 feet east we could still get a lot of use out of it. Otherwise we will probably take it down. Is moving it a practical idea to pursue? TED in DEXTER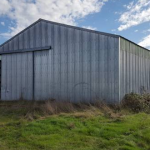 DEAR TED: Sadly I just cannot see a scenario where moving this building becomes truly practical. If you have lots of free time, you could completely disassemble it and rebuild in a preferable location. However, you are reusing materials and things never seem to fit back together as tight as they did originally. If you are not going to rebuild, you might consider offering it to someone who will take it down and haul it away – it would save you time and effort and someone else can have headaches of teardown and rebuild.
DEAR POLE BARN GURU: I had a 30×40 built 14 feet high. Vapor barrier was used, insulated walls and vapor shield on top of the trusses, Vented over hangs and a ridge vent, insulated ceiling and metal on the walls and the ceilings.
Whenever I pull in my vehicles wet and leave them in there I get moisture all over everything. Now I am noticing green mold on the plywood work bench and in some various spots on the loft I built. I do not have any heat in there as I was not concerned about it being real warm in there, but I am wondering if am going to have to heat it to get rid of the moisture?
Any help would be appreciated. GREG in ELMA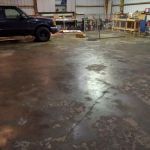 DEAR GREG: Your steel liner has created a surface trapping any and all moisture inside of your building. In my humble opinion you have just one more example of why steel liner panels are not a good design solution for most buildings.
Just water alone, dripping from your vehicles, will probably not add enough moisture to create your described situation.
Step number one in solving your challenge – unless you know a well-sealed vapor barrier exists underneath your building's concrete floor, use a good concrete sealer upon it. This might be a product you should consider: https://www.hansenpolebuildings.com/2018/11/siloxa-tek-8505-concrete-sealant/.
Unless you have taken steps to prevent moisture from migrating through your concrete slab, adding heat will merely draw even more water up through this slab into your building.
Secondly, you need to get moisture out of your building by adding a powered exhaust vent, a dehumidifier or both.
DEAR POLE BARN GURU: Another design question from me, I have too much planning time on my hands. With my house I made the mistake of having the vinyl siding too close to grade and it is showing lots of damage from typical yard maintenance, i.e. trimmers. I want to do a wainscot on my pole barn and probably correct the problem with my home siding at the same time. Not a huge fan of the metal siding for wainscot, not enough style contrast for me. Ideally I would do a stone veneer, but that is pricey. I am considering all options at this point. Stucco, fiber cement board, wood, even toying with the idea of veneering the outside with concrete pavers. Do you have any experience gems to share or any out of the box ideas? Thanks. ROB in ANNAPOLIS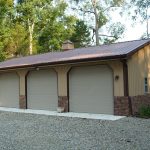 DEAR ROB: Even with Code mandated six inch minimum hold up above grade for vinyl siding, it experiences a significant amount of damage just as you describe. Our house has steel wainscot and it has performed admirably other than where our daughter-in-law drove a riding lawn mower into it.  All it took to repair was removal and replacement of a few short steel panels.
Given your preferences, I'd recommend you look into products such as
https://www.hansenpolebuildings.com/2018/10/mortarless-masonry-exterior/
or Thin Brick (http://thinbrick.us/).