When Good Information Gets into the Wrong Hands
When I want something done right, I go to an expert. I've got a friend working on re-restoration of my 1950 Chevy pickup truck right now. My friend happens to have taught auto restoration at a college for several years. When I talk with him about my truck, I hope I sound half as intelligent when I talk to people about their pole buildings. He really knows his "pooh".
I actually do know more than just a passing amount about post frame construction and what does and does not work. Unlike some folks.
Please read on:
One of our clients had gotten some information from Menard's on what was referred to as R-8 vinyl insulation – reported (by our client) to seemingly be used to insulate non-insulated overhead doors. To find out why this would NOT be a good idea: https://www.hansenpolebuildings.com/blog/2012/12/insulated-overhead-doors/).
Our client's intent was to use this product to insulate the walls of his new pole building.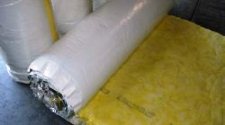 The client's Hansen Pole Buildings' Designer Rick forwarded to me the information they were provided by the folks at Menard's (https://www.menards.com/msds/110522_001.pdf). The product turned out to be exactly what I guessed it actually was – Metal Building Insulation!
I've railed about Metal Building Insulation being used to insulate buildings with steel roofing and/or siding previously https://www.hansenpolebuildings.com/blog/2011/11/metal-building-insulation-in-pole-buildings-part-i/. But, it sounds like it is due to be brought up again.
The product description from Guardian Building Products (www.GuardianBP.com) sounds like some pretty great stuff! It, "Reduces Energy Costs, Helps Control Condensation, Improves Noise Control, Provides Enhanced Light Reflectance and Can Be Left Exposed"!
The nifty little table gives available products by R-value, thickness and width. What the average consumer will not understand is the recovered R-values of these products are guaranteed prior to installation! There is even a small asterisk following R-Value on the table which leads to a very fine print footnote: Preinstalled values.
In the "Technical Data" box, it references Fire hazard Classification with three asterisks leading to another small footnote, "Excludes white vinyl faced fiberglass" – which is what most Metal Building Insulation is!
Oh…and don't let this footnote slide by: "NOTE: Condensation blanket is NOT sold as a thermal barrier. The insulating value of the product is negligible and should NOT be utilized in conditioned or semi-conditioned buildings where thermal performance of any degree is required."
As my Mother used to say, "…'Nuff said…" until the next time I hear someone wants to use metal building insulation under their wall steel!