I've previously expressed concerns about light gauge "carport" type buildings (read more at: https://www.hansenpolebuildings.com/blog/2013/05/carports/).
(My advance apologies for the misleading title, it was used by the complainee below – VersaTube® buildings are NOT pole buildings!!)
Whilst doing some 'net surfing, I recently came across this posting at www.pissedcustomer.com:
"I purchased a metal frame building from Versa Tube, which their engineers designed for the area of Minnesota I live in. The building collapsed!
I purchased a VersaTube metal frame building from Menards in Hermantown, Minnesota. The building was designed by the engineers at VersaTube, for the area of Minnesota I live in. The building was 32′ wide X 36′ long and 12.5′ tall. I purchased the building in September 2013 and it was built that same month.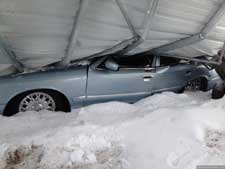 On Febraury 21, 2014 only 6 months after the construction of the building, it collapsed during a snowfall. The warranty states "The VersaTube Product Pledge What exactly is a Product Pledge? It's quite simple . .
. the Pledge is our way of showing that we're proud of our products and the level of quality that they represent. Your building will go through an extensive inspection process prior to leaving our plant, but if any component should not meet your expectations, we'll be glad to replace the part at no charge within 30 days of purchase. The only criteria that must be met is that you bought the building from VersaTube, the damage wasn't caused by customer modifications or mishandling, and that the building was erected within 4 months of purchase.
This section of the Pledge applies to any of the materials supplied with our building kits for one year from the date of purchase. The second part of the VersaTube Product Pledge provides a 20 year structural warranty on all framing components of our buildings from the date of purchase. Of course, the defect can't be caused by customer modifications or negligence, an unanticipated Act of God or nature, an accident, or any type of internal or external impact. Improper assembly or installation may also void the warranty.
The customer is responsible for performing standard building maintenance and inspections on a regular basis. We reserve the right to repair or replace any part that might not meet expectations. VersaTube is proud to put our name on the buildings we manufacture for our customers and stand behind their quality with our industry leading Product Pledge." I have contacted VersaTube, and they are not willing to honor the Warranty. VersaTube told me that I should file a claim with my homeowners' insurance company.
The building was designed by VersaTube Engineers for the part of the country I live in before I ever built it. Now they are saying that it has been an abnormally snowy winter and because of this, they don't have to honor the warranty. We have not broken any snowfall records in Saginaw, Minnesota this year. These buildings should not be sold to customers in Minnesota or other states that get snowfall.
VersaTube uses Homeowners Insurance as a copout to honor their warranty. I paid 6300.00 for the metal frame from Menards.
Menards tells me that all warranty issues go directly thru VersaTube."
From The Pole Barn Guru:
This is my humble opinion only:
Building owner – should have taken one look at this "thing" and realized there was no way it would ever withstand any significant amount of snow. Unless registered engineer sealed drawings for the design loads where the building was to be located were provided with the building purchase this, "their engineers designed for the area of Minnesota I live in", was merely a poor assumption upon the part of the buyer.
Menards® – once again just me, I would personally have a very difficult time selling a building to a client which I did not have total faith in its ability to adequately carry the climactic loads where it would be located.
This is a case of, if it looks cheap, and the price is cheap, maybe it IS cheap! Want an affordable, permanent building which WILL stand up to the elements – then a pole building is probably the solution! And yes, you can get engineer sealed drawings plus full calculations on any pole building from Hansen Buildings.