How to Properly Vet Pole Building Suppliers
Whether planning a single car garage or a post frame (pole) building larger than an acre, your hard earned money is going to be invested in it. Even if you decide a Hansen Pole Building is not the right fit for you, it is important to both the industry and me personally for no one to be either scammed, or to get less in quality or service than expected.
I've explained how to check out pole building contractors previously: https://www.hansenpolebuildings.com/blog/2013/07/contractor-6/
When bringing new team members on board, I encourage them right up front to check us out thoroughly. The methods they have used to find out about us, are the same ones you can use to check out other pole building suppliers.
WEBSITE
This is 2023 and the internet has been used commercially for over two decades, do you actually want to do business with a company which does not have a website? Even an unprofessional website is a harbinger of potential pitfalls. Poor grammar, misspellings and bad punctuation are not signs of a business which will be paying attention to important details – yours!
If there is not a physical business address listed on the website – RUN!!! There is a reason they are hiding from you (and possibly lots of other people). If there is a physical address – Google it and see if it looks like a real business.
SOCIAL MEDIA
Look for the business on Facebook. You can tell a lot about any business by their social media presence.
Do they have videos posted on YouTube? How about photos on Pinterest?
INTERNET
Type in the name of the business in a Google, Yahoo or Bing search and start reading. When you search for Hansen Pole Buildings there are not just one or two links listed – there are hundreds!
Type in the name of the business and "complaints" or "reviews" and read them. I recently looked up a business which also supplies pole building kit packages and found over 1,000 complaints on a single website – and not a single one of them showed as being resolved!
Type in the phone number or numbers listed on the company website in any search engine. This often will bring up other businesses which may be affiliated with the same number. Check them out too – while the record may be "clean" in one place, if it is dirty somewhere else, the problems could become yours.
CONNECT
Call the numbers on the website and send email. If you don't at least hear back, in some fashion – "Houston, we have a problem!"
BETTER BUSINESS BUREAU and NATIONAL FRAME BUILDERS ASSOCIATION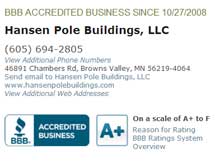 www.BBB.org allows consumers to see if a business is an accredited member, as well as a complaint history. Every business which truly respects its clients should be a BBB member.
National Frame Builders Association (NFBA) members care about their industry, they make a financial commitment to support advancements in research and technology.
You can read more about both of these at: https://www.hansenpolebuildings.com/blog/2013/10/post-frame-2/
Considering the average pole building kit package is well over a $40,000 investment, if it takes an hour to properly vet pole building suppliers and you do not get ripped off – it may very well be the most money you have ever made per hour!