Guy Wires for Pole Barns
Ritchie Wallace of Wallace Brothers Construction has been assembling Hansen Pole Building kit packages in the Columbia Gorge of Washington and Oregon for at least a decade – quite a few of them for widespread purposes ranging from garages to picker cabins! Several of his completed projects grace the Hansen Pole Buildings website, as well as being featured in our Construction Manual and Product Guide.
Besides building Hansen Pole Buildings, Wallace Brothers also have a successful overhead door install and repair business.
Don't take just my word for Wallace Brothers having a good reputation, go see their A+ rating and no complaints history at the Better Business Bureau:
https://www.bbb.org/oregon/business-reviews/contractors-general/wallace-brothers-construction-in-dufur-or-22582838
Recently Ritchie was contracted to install an overhead door in what he refers to as a "farmer job". The unique feature of this particular building is the use of guy-wires to stabilize the building!
Of course he had to tease me – he sent the photo first, with no real explanation, knowing I couldn't help but buy in and ask questions!
The State of Oregon has an exemption for agricultural buildings, which basically allows farmers to construct without the need to meet any structural criteria. https://www.hansenpolebuildings.com/blog/2013/09/agricultural-exemption/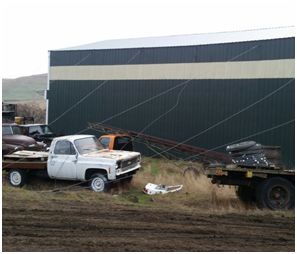 Guy-wires are tensioned cables designed to add stability to a free-standing structure. Most folks are familiar with their use with utility poles and radio towers. One end of the cable is attached to the structure and the other is anchored to the ground at a distance from the structure's base. The tension in the diagonal guy-wires, combined with the compressional strength of the structure, allows the structure to withstand lateral loads such as wind.
Even under designed structurally, a pole building is a significant investment in resources, both in time and money. I just have a difficult time wrapping my head around why it is anyone would put up a building which requires adding guy-wires in order to keep it standing!