Don't Make Mistakes on Horse Stall Doors
Horse owners please join in, this one is for you:
Picture, if you will, your dream barn. You know how many stalls, feed rooms, tack rooms, etc., are needed and how much space they will take up. You have the exterior down pat, but you may not have put as much thought into stall doors for your horses.
Building the right stall for your horse is crucial for creating a comfortable environment and working space. Very intricate details matter, from stall door types to their hardware.
Caveat – even though our daughter Bailey (https://www.hansenpolebuildings.com/2018/09/planning-your-equestrian-facility/ ) is a famous horse trainer, I have never ridden a horse. I have had many, many clients (along with my daughter) who have provided valuable feedback. I am sharing common view points below.
There are two main types of stall doors to choose from when designing your horses' ideal stalls—sliding and swinging doors. As with any option, each type of door has its pros and cons.
Sliding doors are great investments for your horse stalls for a number of reasons. They are far less expensive. They are less hazardous than swinging doors because they won't take up aisleway (https://www.hansenpolebuildings.com/2011/12/horse-aisleway/ ) room as you open them. I would never recommend a swinging door into an aisleway. A sliding door simply slides on its track so both you and your horse can enter and exit a stall comfortably together without worrying whether the door is latched back properly or blocking space in the aisle.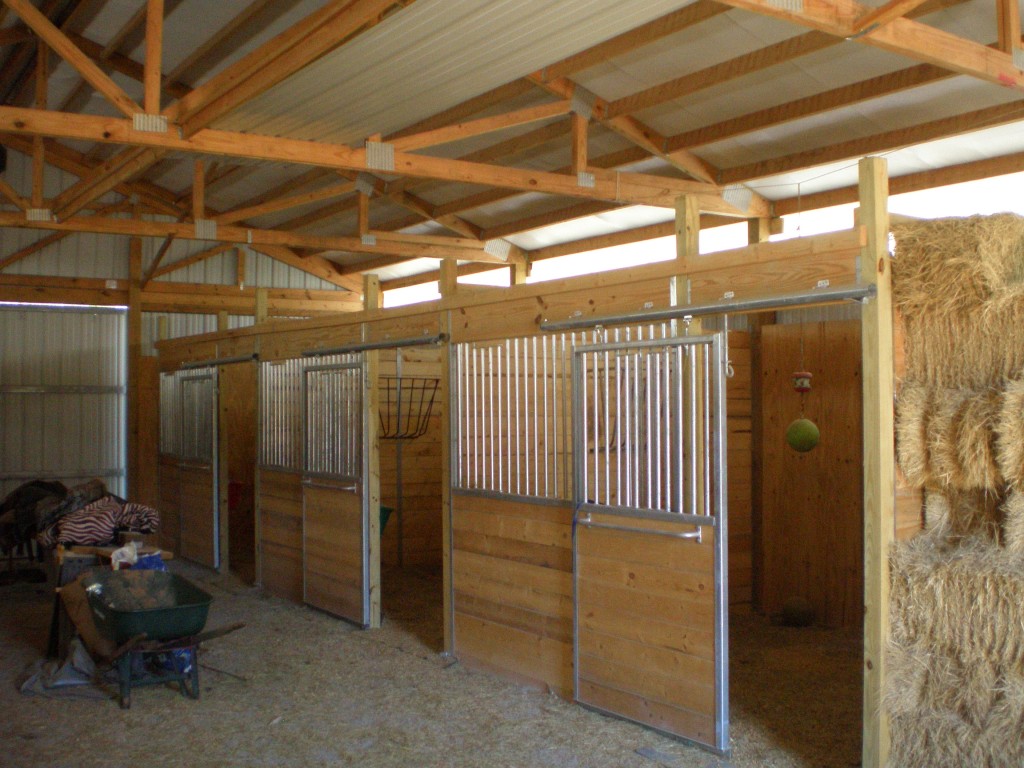 In addition, a sliding door allows you to adjust the stall's entrance just wide enough for you to enter without risking your horse sneaking past you, anxious to get into trouble. This makes accomplishing basic chores much easier, whether you're changing your horse's water or refilling feed.
Swinging stall doors are both more traditional and less practical. Dutch doors have grown in popularity and are more often seen in barn architecture. Why are they still so popular?
For some, it makes an ideal exterior door. Although appearing as one solid piece when closed, Dutch doors are actually split in two sections. The top half can be opened and secured outside with a hook and eye latch, allowing your horse to bask sunshine and enjoy views (think Mister Ed) of fields or outdoor arenas while secure in his stall. Sounds like a good way to torture your horse to me. Dutch doors also make great exterior stall doors because they provide your horses with opportunities to communicate with one another while trapped in their stalls, exercising their natural desires to socialize.
You can read more about exterior stall doors here: https://www.hansenpolebuildings.com/2014/10/exterior-horse-stall-doors/
Regardless of your stall door choice, your doorways should always be approximately four feet in width to provide comfort for you and your equine friends.
Dial (866)200-9657 to speak with a Hansen Pole Buildings' Designer in regards to your horse stable wants and needs.