Spray foam insulation has become increasing popular for achieving high R value building shells. One downside of spray foams has been they are not being fire resistant.
I was pretty excited to read this on a post frame building contractor's website:
"Installing foam insulation can either be sprayed or foamed-in-place. Foam has the ability to create an air barrier for the smallest of air leakages. Spray foam doesn't retain water, providing excellent protection from the growth of mold and mildew. While foam insulation is generally more costly than other insulation options, it does have higher R-values and is fire rated." 
As this particular contractor is a friend of mine, I dropped him back this question, "Spray foam insulation is fire rated?"
To this he replied, "Yes, some are, Tiger makes one."
News to me, so I fired up my laptop and headed to Google, looking for more information.
Tiger Foam™ insulation (https://tigerfoam.com/sprayfoaminsulation/), according to their website, "is a proven leader in providing spray foam kits, supplies and accessories to homeowners and contractors alike."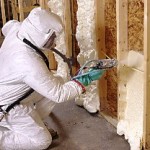 Again, according to their website, "We offer retails sales for small projects and wholesale, bulk pricing for bigger jobs. Our expert customer service team is always available to answer questions and help plan projects. Whether you're trying to save money on your monthly energy bills or working to satisfy your customers. Tiger Foam can help. Most of all, our products provide high performance and great value. Become a customer today and get you the tools you need to start saving energy dollars!"
Well, sure enough, Tiger Foam™ offers a 'Fast Rise' kit providing a Class 1 Fire Rating. This fire rating means this building material is highly resistant to fire and does not spread flames quickly. Building materials with a Class 1 fire rating are often man-made or nonorganic substances. Other Class 1 building materials include brick, tile and cement.
I have never personally installed Tiger Foam™, however I have paid to have closed cell spray foam insulation installed by a professional installer. If you are considering using a closed cell spray foam for your new project, discuss fire rating with your installer of choice.