Cardboard (or Plastic, Foam, Metal) Eave Baffles
The model building codes (IBC and IRC – International Building Code and International Residential Code) require enclosed attic spaces, in most cases, to have ventilation. The most efficient ventilation design solution is to have enclosed vented soffits at the eaves as an air intake, and a vented ridge as an air exhaust.
In order for this system to work effectively a minimum of a one inch air space has to be maintained from eave to ridge across the top of the attic insulation. For traditional stud wall frame buildings with trusses or rafters every two feet, this air channel can be maintained by prefabricated eave baffles which block the insulation from tumbling into the soffits. There are numerous materials used for these baffles, each of which has its own good and bad points.
But what about post frame construction? With trusses at a myriad of different spacings, due to engineering design or builder preference, there is not a one size fits anyone solution to maintain airflow.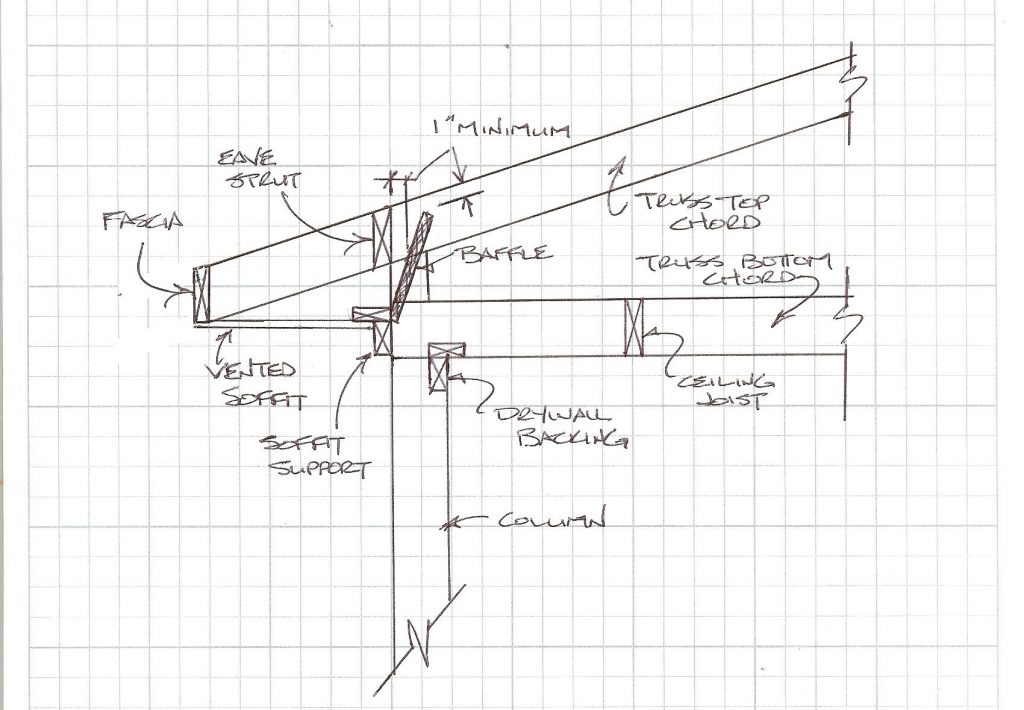 Energy efficiency is a high priority for new building owners, making arriving at solutions which are as painless as possible a prime directive for post frame designers.
In order to maintain full insulation depth from outside of wall to outside of wall, it is most advantageous to use raised heel trusses (https://www.hansenpolebuildings.com/2012/07/raised-heel-trusses/). Now, how to keep the insulation where it belongs?
High R rigid insulation sheets can be cut to fit between the trusses, extending from the soffit supports to no less than one inch below the roof sheathing. A minimum one inch space must also be left between the inside of the eave strut and the insulation sheet.  Product dependent, of course, the high R boards can offer an R value of approximately six per inch of thickness.

Plywood or OSB (Oriented Strand Board) can also be used as a baffle, however either product is going to be heavier to work with, as well as not affording more than a minimal R value.