This week the Pole Barn Guru addresses reader questions about engineering drawings for a house– from a building inspector in Michigan, whether or not a post frame structure can be mounted on a basement, and if an ADU (accessory dwelling unit) can be constructed with post frame.
DEAR POLE BARN GURU: I am looking for engineering drawings for a pole structure that will be used for a house. This would include foundation drawings, and all other drawings that show that it conforms to the international building standards. All load calculations would be needed. stamped engineering drawings would be required. I am a building inspector for Williams township, Michigan. LESLIE in AUBURN
DEAR LESLIE: Thank you for your interest. Every post frame building Hansen Pole Buildings provides is fully engineered to meet applicable structural portions of the International Residential and/or Building Codes, as applicable. All components and connections, including foundations, are checked and verified for structural adequacy. Besides full-sized (24″ x 36″), site specific, multi-page engineer sealed plans showing each piece and how it is attached, you also receive engineer sealed verifying calculations.
With each building investment comes our 500+ page step-by-step Construction Manual and unlimited technical support provided by team members who have actually constructed post frame buildings.
A member of our Building Design team will be reaching out to you to further discuss your post frame building needs.
DEAR POLE BARN GURU: Can a pole barn home be mounted on a basement? I assume there is no floor so how does one put a floor over a basement in pole barn home? Another question, if the barn is not finished inside, does it really cost less to have a finished house to move into? GWYN in CLINTON
DEAR GLYN: Post frame (pole barn) homes can easily be engineered to ICC ESR approved wet-set bracket mount to poured concrete, CMU (concrete masonry unit) blocks, ICF (Insulated Concrete Form) blocks or integrated into permanent wood foundations.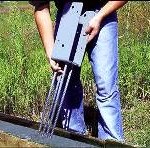 For extended reading on wet-set brackets https://www.hansenpolebuildings.com/2019/05/sturdi-wall-plus-concrete-brackets/
Floors over basements are no different structurally than stick-built homes and can be either beams and joists, or engineered wood floor trusses. https://www.hansenpolebuildings.com/2020/01/floor-trusses-for-barndominiums/
While much of post-frame's cost savings are due to foundation savings, fully engineered post frame buildings are very material efficient and DIY friendly (not to mention less costly to super insulate). This makes post-frame an ideal design solution for cost conscious future homeowners.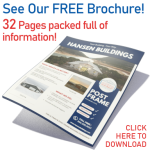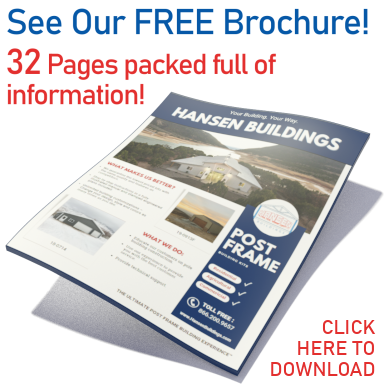 DEAR POLE BARN GURU: Can a pole barn be used to create a backyard ADU (accessory dwelling unit)? My city allows them with rules and specifically said hoped to use modular to decrease construction noise but it seems that this might be a similar decrease in noise. However the issue is size I need it to be 400 which is the current minimum my house is 700 so my backyard is around 40×60. I would actually prefer a two story which could then have a smaller footprint perhaps 250-300 sq ft on each level with a simple porch lift between with an exterior staircase as back up and fire escape, or a two car garage with the ADU as the second floor. The ADU would become my home as I need a wheelchair accessible space. thank you. KRISTINE in GRAND RAPIDS
DEAR KRISTINE: Yes, a fully engineered post frame (pole barn) building would likely be an ideal design solution for an ADU. Our experienced American floor plans specialists can assist with a design to best meet with your needs.
For more information: https://www.hansenpolebuildings.com/post-frame-floor-plans/