Installing Joist Hangers on Opposite Sides of a Double Truss
My friend and loyal reader LONNIE in COLORADO SPRINGS is one Hansen Pole Buildings' client who truly puts thought into the assembly of his new post frame building.
Lonnie writes:
"I've been pondering and pondering this and I may have a solution that I want to run by you. I'm considering buying a Bostitch F21PL framing nailer to use on the project and mainly because it includes a metal connector tip that will allow it to drive the 3" nails through the hangers for the purlins. What I was thinking of doing is to frame each truss bay using 2@ 1 1/2" 10d nails (always making sure to use the same 2 holes for each hanger… i.e. upper left and lower right) to build each bay on the ground. After raising the truss bays, go back and attach the double trusses together and at the same time finish the hangers with two 3" 10d nails in the empty hanger holes. The only concern I had was that the 3" nails would be driven opposing the 1.5" nails on the opposite truss hanger. However, since the nails would be driven point to point I think the odds of the 3" driving the opposing 1.5" out would be very slim.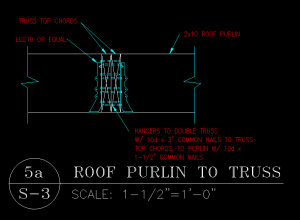 Do you think that mix of 1.5" and 3" nails for the connectors would be sufficient or should I really consider just temporarily attach the hangers and replace the temporary attachment with the 3" nails? If that is the case, is there an issue driving 3" nails basically tip to tip through the hangers?
Mike the Pole Barn Guru writes:
Your mix of nails will be more than adequate, as the load carrying capacity of the hanger is greater than the ability of the roof purlin to carry a load. In simple terms – the hanger and its fasteners are not the weak link in the system. Also – if you take two hangers and place them back to back, you will notice the holes do not all line up – whether the variability is accidental or purposeful, I do not know, however it further reduces the probability of nails from opposite directions exactly hitting each other tip-to-tip.

A caution – situations involving a differentiation from what is shown on the actual engineer sealed plans should always be verified for structural adequacy prior to implementation.