Planning for a Dogtrot Barndominium

Reader JIM in HOLIDAY writes:

Dear sir,
I have scoured your site as best I can in the past few weeks and I only see one very brief mention on the "Blower Door Test" and some other articles on elevated wood flooring.  These are the two main issues I am currently working on but I will try to briefly give you my current situation so you can offer any ideas.   Your knowledge and website are invaluable and although we haven't talked or met, I feel I can trust you to be honest.
A little background:
I have 5 acres of mostly wooded land in northern Florida approximately 30 miles SSW of Valdosta, Ga.  I have the land approximately 50% paid off and owe about $18,000.  
I currently have a 100amp temporary electric pole, a water well drilled and am installing a temporary septic system.  All were permitted and approved except the temp septic since it is being constructed.  I also have a 12×16 single pitch roof gazebo, permitted and approved, an engineer stamped 12×16 s-type quonset hut shed, a 10×12 (no permit needed) shed and an 8×30 old refurbished FEMA trailer that we can stay in when we are there to work.  All are paid in full.
I am required to have a minimum of "1200 sq ft of heated living area" for a residence due to a covenant/restriction in the deed.  The land is approximately 4 hours from my current home.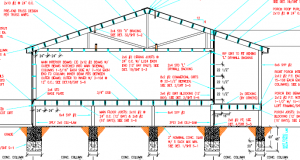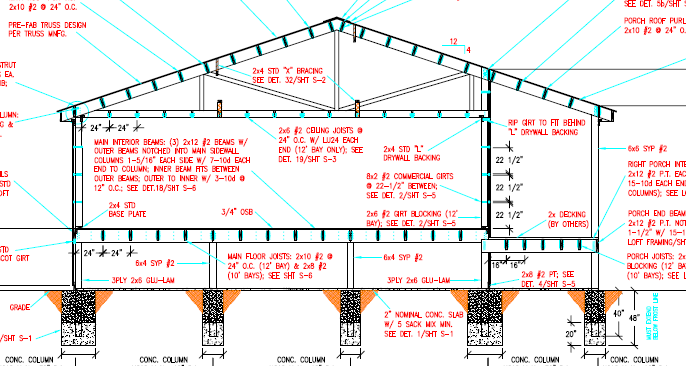 I would like a 30 to 36 inch raised wooden floor in the residence.  My budget is on the lower end since I'm on a retirement income.  I will be the general contractor (no experience) and I have two sons in the construction business with 15 to 20 years experience.  My oldest is a roofer but currently owns his own handyman business so he either does it all or knows people who can do what I need.  My youngest is a framing carpenter who also has connections.
I feel comfortable about their abilities and their friends and co-workers being able to get this done for me.  I want all the floors raised as I plan to eventually connect all the buildings with a continuous porch and the house with a wrap around deck the same height.  When completed the area will have the house and all the buildings in a "U" configuration that is approximately 250 ft by 250 ft.  There is a possibility, and room for, another 1200 square foot residence next to the first but both buildings would have to be connected, making it one residence since I am only allowed one residence on my 5 acres.
Now that you have the general, current, status of where I am, I am trying to decide on the 1200 sq ft residence.  First and foremost, my building inspector and I don't always see eye to eye.  He says that he has yet to find a metal building that will pass the now nationwide mandate for every new residence to pass a "blower door test" and my residence will not be approved unless it does.  He has no issue with a raised wood floor but feels that poles in the ground may not be sufficient due to the hurricane rating for winds.  Uplift from winds will require not only cement but screw in tie downs like on a mobile home, which I was required to do on the other, smaller buildings.  
Can you please explain and elaborate on a Hansen pole residence of around 1200 sq ft and the blower door test and also the raised buildings and floors and uplift.  Any other suggestions would also be greatly appreciated.
My main goal is to get the needed, but bare minimum 1200 sq ft residence as soon as possible so I can get my certificate of occupancy and move there and then complete the interior of the first building.  Then apply for a permit to build an attached second building of the same size and design as the first to double my space.  I don't know if this can be done but obviously living there will accelerate my plans rather than driving 4 hours, every 2 or 3 weeks, spending 2 or 3 days working and driving back.  My wife and I seem to like the "dog trot" style building but I don't know if this can be done one building at a time. 
Thank you for your time and ideas on this.  
Jim
I am in somewhat of a rush to make a decision on what residence to focus on so an email reply to xxxx@xxxxx.com as soon as you can would be appreciated. Hopefully this will be of interest to others and may be published in your blog in the future.
Again thank you for such dedication to informing everyone who is trying to live their dreams.
Tune in tomorrow for Mike's response!