A Dog Trot Post Frame Home

Welcome back!

If you missed yesterday's installment, you will want to flip a page back, otherwise this will not make sense!

Thank you Jim for your kind words – so much to write about and so little time 🙂 I do endeavor to provide to anyone who wants to read, best possible and researched information. I also tell it like it is, rather than just giving answers you want to hear.

For those who may read this later, a 'dog trot' style building historically has two individual sections, connected by a breezeway. Dog trot homes are typically raised off the ground and have a wide front porch along an entire length. Normally one section will have 'day functions' (cooking, dining, living) and its counterpart will have 'night functions' (sleeping, bathrooms). I would encourage you to consider putting up this building shell in its entirety at one time as there will be economies to be derived in only one set of deliveries as well as labor savings in not having to tear anything apart in order to conjoin first and second stages. You could certainly complete all inside finishes of each section independently.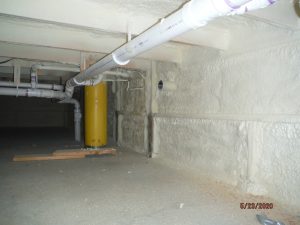 Being able to pass a blower test is less a function of the structural system than it is of properly constructing a well-sealed building envelope. It is also not yet a nationwide mandate – Florida just happens to be one of a handful of states where it is required. By using two inches of closed cell spray foam insulation on all surfaces and properly installing all doors and windows you should have no issues with passing a blower test. Our third-party engineers do a thorough check on every member and connection to ensure all are adequately designed to resist the imposed loads – including column uplift. Screw tie downs will not be required in order to resist columns uplifting (at least not by our engineers). Raised wood floors (over crawl spaces) are becoming more and more popular as people are realizing they are available and do not like the idea of living upon concrete floors https://www.hansenpolebuildings.com/2019/03/slab-on-grade-or-crawl-space/ . One of our recently retired Building Designers, Rick Carr, has recently built a hunting cabin for himself over a crawl space https://www.hansenpolebuildings.com/2020/06/fishing-cabin-insulation/.

One of our Building Designers will be reaching out to you for further discussions. I would also recommend you get into our queue for getting floor plans and elevation drawings generated http://www.hansenpolebuildings.com/post-frame-floor-plans/?fbclid=IwAR2ta5IFSxrltv5eAyBVmg-JUsoPfy9hbWtP86svOTPfG1q5pGmfhA7yd5Q.