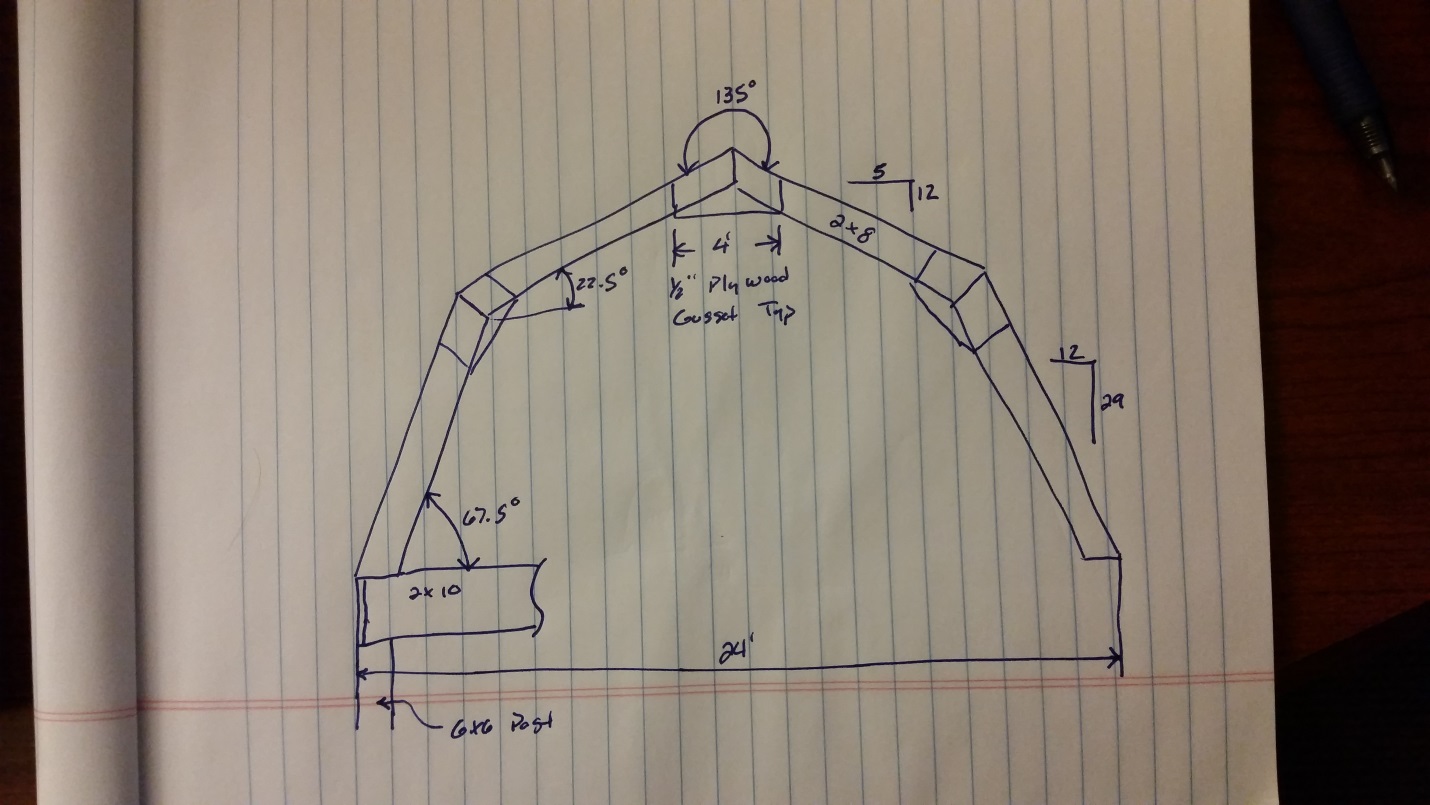 Gambrel style rooflines are often enticing, they offer the feeling (however not the reality) of getting added space for free. Building your own gambrel barn trusses might appear on the surface like a way to make this even a greater savings.
This was prompted by an inquiry from reader DON in WAYNE. Don writes:
"I am building a 24 ft. wide x 40 ft. length barn. I am going to build a gambrel truss with 2×8 and with 4 ft. wide gussets. How far apart should I space them using purlins and should I use 2×4 or 2×6 purlins. I was thinking of going 4' wide with the trusses and using 2×4 spaced 2 ft. wide for the purlins."

Mistake number one is even considering building your own trusses, on site, unless you are constructing them from drawings designed and sealed by a Registered Design Professional (RDP – licensed architect or engineer). Chances are way too good (100% guaranteed) you are dooming your building (and possibly its occupants) to failure. In all seriousness, prefabricated steel connector plated wood trusses are the only way to go – you will save money in the long run and you will be able to sleep soundly at night.

Your second mistake is in trying to be your own building engineer. If it was my own building (depending upon the design wind and snow loads), I would probably be using a single truss on each endwall and double (two ply) trusses every ten feet, bearing directly upon the columns. In my humble opinion this will give you the safest end resultant as the trusses can be notched into the columns and not possibly slide down the columns (or have a questionable connection to a header or truss carrier). You can then utilize 2×6 (or 2×8 depending upon loads) roof purlins on edge to support the roofing.
Your idea of using 2×4 (I am guessing flat over the tops of the trusses) every two feet and spanning four feet will not work unless you have the availability of lumber graded higher than the Standard and Construction material from your local lumber yard.

To avoid making crucial mistakes, which could waste your hard earned money, I would recommend you invest in a fully engineered post frame building kit package.