Can I Build on Bedrock?
Email all questions to: PoleBarnGuru@HansenPoleBuildings.com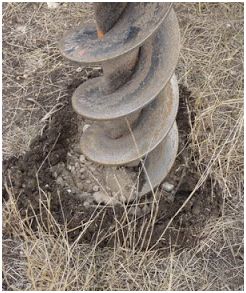 DEAR POLE BARN GURU: It looks like on two of my pole footings (24 x 36 barn) I'm going to hit bedrock about 2.5 feet down into my 4′ footing.  Is my only option to rent a jack hammer and keep chunking away at the bones of the earth until I hit depth, or do I have another option? BEDROCK IN BOLTON
DEAR BEDROCK: My first recommendation would be to contact the engineer who designed your building. Often times, a larger diameter hole can be utilized to offset the lack of depth. In the column embedment calculations, the depth of the hole is squared, while diameter is not, so (depending upon the design wind load) you may end up with some fairly large holes. If the original design does not call for the holes to be backfilled with concrete, you should consider doing so with these two, to prevent uplift issues.
 If you opt to try for a lesser depth, you should also discuss with your building official. In the end – if the Building Inspector ain't happy, ain't nobody happy.
 Me – I'd probably be out there with a jack hammer.
DEAR POLE BARN GURU: How to anchor a pole barn on solid rock? I've an almost perfectly flat expanse of bedrock that I'd like to set the building on as I'm unable to use it for any other purpose (and apart from the rock, the location is ideal). Is it possible to use anchor bolts drilled & epoxied into the rock? Building use would be agricultural storage. GNASHING IN NASHVILLE
DEAR GNASHING: While the bedrock may appear to be exactly what it is, you might want to consider having a Geotechnical Engineer take a look at it, to determine if indeed it actually is adequate to support a building.
 Assuming the bedrock is adequate, there are brackets we can provide which can be used to anchor buildings to solid rock (they are actually designed to attach columns to existing concrete foundations or floors). When you put in a request for a quote, make sure to let us know the circumstances, as well as the amount of grade change from high point to low across the rock.