I've written previously about the barn renovation or "barndominium" craze: https://www.hansenpolebuildings.com/2014/02/barndominium/
As well as my own personal bit of post frame building heaven: https://www.hansenpolebuildings.com/2014/07/pole-barn-house-2/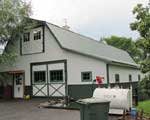 Chip and Joanna Gaines, hosts of HGTV's Fixer Upper, have been flipping, remodeling and fixing up homes together for the past 12 years as owners of Magnolia Homes in Waco, Texas. They have worked on more than 100 homes together, combining Chip's great instinct on real estate and Joanna's unique eye for design.
The Gaineses met after they both graduated from Baylor University, and like all of their projects, fate played a role in bringing them together. Shortly after their wedding, the couple purchased, gutted and renovated their first building together, and Joanna opened a home accessory store called Magnolia. Eight years later, this "can't be stopped" couple found an amazing way to balance having four kids while growing their business to include a real estate company, construction company, design firm and residential subdivision, Magnolia Villas.
Chip and Joanna are passionate about walking their clients through every aspect of the construction and design process and helping to turn their dreams into a reality. The Gaineses have lived in Waco for over ten years. They enjoy working together with the same goal in mind — to make Waco and all Texas communities more beautiful, one project at a time.
Here is a project the Gaines' took on: https://www.faithtap.com/5574/barn-converted-into-beautiful-home/
I will say it would probably have been easier and less expensive to have knocked the old barn to the ground and started from scratch, however I have been guilty of the same crime in the past – getting too involved in a project to be able to recognize the big picture.
In this barndominium's original remodel (adding the small upstairs apartment), I am guessing it is either located somewhere building permits are not required, or somehow the acquisition of one was missed.
Why do I surmise this?
Looking at the photo showing the exterior stairway, the Building Code has some fairly strict requirements on spacing of stair pickets (read more here: https://www.hansenpolebuildings.com/2015/12/59393/) and these stairs do not meet the requirements.
It also appears the earlier remodel did not take into account fire separation issues which must be addressed when a garage and a residence are attached to each other.
I have to give kudos to Chip and Joanna for the wonderful job they have done in converting this older barn into a lovely home.