What to Consider in a Post Frame Garage Door
Today's guest contributor is Irene Trentham, Content Marketing Strategist of Arizona's Best Garage Door and Repair Company, a locally-owned enterprise specializing in installing new garage doors and repairing defective ones for Phoenix Arizona area residents. She loves to do camping, hiking and yoga and to spend time with her family and baby girl, Tatum when not writing.
"Post frame buildings are becoming increasingly popular because of their versatility.  They're a great choice for every type of low rise building whether a commercial garage or storage facility to a post frame home, shouse or barndominium because they're not only economical, they're also fast and easy to build.
A key feature to many post frame buildings is a garage door – often serving as a main or primary entryway. With this said, anybody who's planning to build a post frame building certainly should discuss garage door options with their potential post frame building supplier.
 When selecting a garage door, many people usually go for least expensive or one they like most. There is a lot more going into choosing a garage door than looks and budget. It is also instrumental in safety and protection of your building and everything in it. Choosing one is not a decision you should take too lightly.
 From commercial garage door installation to looks and aesthetics, here are important things to consider when buying a new garage door.
Security
 Safety and security are essential to any building. This is why it should be a paramount consideration when looking for a new garage door. It is standard for garage doors (operators) to have safety sensors, but newer ones may have more advanced and sophisticated detectors. This feature is especially crucial if your post frame building is located in a high traffic area. When a sensor detects a person or an object as door closes, it stops or reverses direction, preventing unwanted accidents.
 For additional protection, you can opt for more recent garage door (operators) models equipped with rolling code technology. This feature changes your door's security code every time someone uses a remote, preventing unauthorized access into premises.
Design and style
 One main difference between commercial and residential garage doors is their size. Residential properties typically have a two-vehicle size garage door, while commercial properties often prefer a wider garage door to accommodate several company vehicles.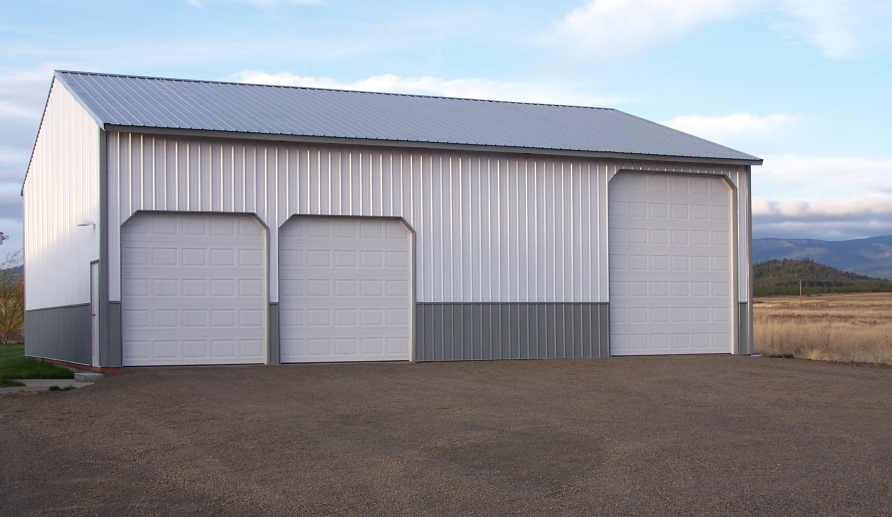 When picking a garage door for your business, choose something blending with style and ambiance of your workplace. Garage doors come in a range of designs and make, so you're bound to find something suiting your taste and aesthetics of your workplace.
 If you're not too sure about how a specific style will look on your commercial space's garage, check out manufacturer websites for samples. There you'll find photos of garage doors and probably get an insight into how they'll look on your space.
Material
 Garage doors come in a variety of materials, each with its own set of advantages and disadvantages. Steel, for example, is the most common because it is least expensive. Steel doors are available in a myriad of styles – flat panel, short and long raised panels and commercial panels. Carriage house options allow for affordable classic looks. Wood may be best aesthetically, but they're expensive to maintain and have a relatively short life span.
 You can often find garage doors in wood, steel, fiberglass, aluminum, and vinyl materials. Vinyl is a new garage door material option becoming increasingly popular because of its durability and ease of maintenance.
Installation and maintenance
 Building owners are often tempted to  DIY when installing garage doors, thinking it will save them some money. But unless you have knowledge, experience, or will read and follow installation instructions, this idea may not be as good as it initially seemed.
 When considering overhead doors in your new post frame building, choose to work with reputable and experienced professionals who can recommend adequate door sizes, aesthetic and insulation options, wind-load ratings, and openers. You'll be glad you did!"