Reader BAILEE in LARAMIE writes:
"Hi, I have a few questions about the structure of turning a pole barn to a residence in the Laramie, Wyoming area. The current project I am working on has pole spacing of about 10-12 feet. I wanted to know if this is still structurally stable with traditional framing with the wind in Wyoming? If not, would it be wise to double the sidewall girts for more support within the walls? Also, if we were to use the traditional framing with 8 foot spacing would that be stable?
Next, do you have any window diagrams that detail the insulation and wall construction within residential pole barns that your company would be able to share?
Please let me know. Thanks for any help that you can provide."
Mike the Pole Barn Guru Answers:
As to the structural stability of any post frame building, anywhere – it depends upon the climactic conditions to which the building was designed by its engineer of record (EOR). If this is an existing building, you may have some challenges, as most "pole barns" are at best designed as Risk Category I buildings – which pose little or no threat to human life in the event of a catastrophic situation. Residential buildings are to be designed to Risk Category II, which increases the needed design wind and snow loads.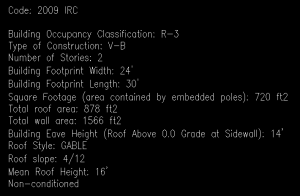 In the event you are installing an interior finish other than steel liner panels (most folks sort of enjoy gypsum wallboard taped and textured) members which support these types of finishes need to be designed for far less deflection. Back to in the event this is an existing building – the EOR should be consulted to determine which members need to be upgraded to meet with your now intended use of the building. Under no circumstance attempt to do this without the consultation of an EOR, it is not worth risking the wellbeing of yourself or your loved ones.
If you are starting from scratch – invest in a building kit package which has been designed by a registered design professional (architect or engineer) who has clearly been advised as to your intended use of the building. The plans they provide will call out all of the members and framing details necessary to give you an end resultant which you and the generations which follow you can enjoy.
For a small nominal fee, you can invest in a Hansen Pole Buildings' Construction Guide, the price of which can be credited towards your purchase of one of our complete post frame building kits. Contact Bonnie@HansenPoleBuildings.com if this is of interest to you.